For the Boys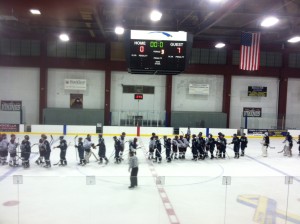 4:00 AM approaches, and the alarm sounds five days a week for the Rockport-Ipswich-Manchester-Essex Varsity Hockey Team. They practice in the morning before the sun's up to prepare for their upcoming season and its upcoming games. This years Vikings are led by Rockport seniors Jonathan Ferrante, Kyle Nelson, and assistant captain Dane Tolstrup. This year returning Ipswich players include seniors Dane Tolstrup, Ryan Mulkerin and Alex Rollins. For juniors we have Marc Castonguay and for sophomores we have Kyle Rollins.
The boys had their first scrimmage this weekend on December 8th. They finished losing 3-1 to Salem. After conversing with Dane Tolstrup he says that "It's the first year we have ever participated in anything like this. We had our third and fourth lines out on the ice for most of the time. Those kids skated hard and really showed us what they had to offer in a game situation. We have three freshman this year who we hope will build and contribute to our program."
According to the captains, they should have a great team this year. After losing ten seniors and their goalie last year, the Vikings are really hoping for a winning season. The boys home opener is Tuesday, December 31, versus Minuteman High School. The main goal is focusing on the upcoming players to build the team when they lose a great deal of players after the 2013-2014 season. Last year they finished with a record of 9-9-2 and hope to improve or meet those standards this year. The boys have a decent schedule this year; Dane also said "I think that we can excel and hopefully go above and beyond what we did last year. We are looking for everyone to come together and play for the
Rockport Captain Kyle Nelson said, "We saw some great stuff out there Sunday but we definitely have a lot of work to do." Other captain Jonathan Ferrante said, "We need to play better, attack better, defend better and support each other better." All quotes from the boys seem to be team related and about getting each other ready for the upcoming season not just themselves.
Because of the large loss last year, the boys are not only focusing on playing as a team, but they are focusing on developing younger players. With seven new freshman the team is looking at the bigger picture rather than just the season. By bringing in these younger skilled players they are padding their programs for greater years to come. Because the Vikings only have a varsity team, the younger players only participate in practices because they cannot dress for games. This really gives no backbone to the team. So, by bringing in these younger players, the Vikings are training these new players to be tough not only in game situations but as leaders to eventually lead the team in their upcoming years on the hockey team. Freshman Duncan Tolstrup says, "It's a great opportunity to be a freshman on a varsity level team and it is a challenge to compete and play with upper class men, but it will pay off in the end."
Overall the Rockport Vikings hope to have a great hockey season growing in skill and as a team. They would love support and fans as they skate through their season and hopefully make it to the playoffs.
Leave a Comment