The Ambition for Nutrition!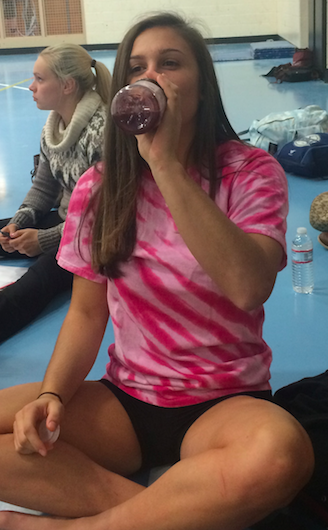 Every move you make, every step you take, starts with one thing: nutrition. Questions often circulate between athletes about what nutrition is best for their body and muscles. They don't realize that certain precautions must be taken before and after workouts/practices to benefit themselves in the long run.
    Taking a closer look at this situation, Kelly, the Ipswich High School athletic trainer, helped show the student body the do's and don'ts of muscle replenishment. As an athletic trainer, Kelly deals with a wide variety of different sport injuries. She believes that only some can be prevented with a good nutritional diet. According to Kelly, everyday needs to start with a healthy breakfast because it will "kickstart your metabolism and prepare your body for the day." She also, recommends that an hour before practice, you should consume a healthy intake of carbohydrates, fruits, and proteins. Additionally, it is good to replenish your muscles with lots of protein and vitamins. Such as chocolate milk, chicken, rice, and pasta because after practice your body is still burning calories up to an hour and a half. Also, make sure that you drink enough water throughout the day and while you are at practice to help.  Eating like this everyday can help prevent injuries, especially muscle strains. It is very important to keep an equal balance of food and drink intake. Therefore, your body will be at ecolibrium.
     Issy Cerundolo, an athlete at Ipswich High School, shares her insight on the importance in nutrition of her everyday life. From her morning workouts, to school, and to multiple cheerleading practices, Issy finds it difficult to find time to fit healthy meals into her busy schedule. Although, she still manages to do so, she knows that she could always make her diet a little more healthier. Issy says "It is very hard to maintain a good nutritional intake of proteins, carbs, and water." By planning ahead and creating a schedule, it is easier for Issy to replenish her muscles.
     However, some sources say that athletes just aren't eating right. Boys tend to over use protein powders, while girls tend to not eat enough, because they are worried about their body image. This is a problem now a days. Going from school straight to practice is very hard and very time consuming. For athletes to better themselves, they should use these five steps: Eat breakfast, don't skip lunch, spread out protein foods, fluids, and timing.       
      Following these steps is definitely a good place to start. Within just days of eating healthy you will start to notice a difference at school and your performance at practice. Eating the right things will help bring your energy level up. Everybody should put taking care of their body first before anything else.