The Effects of Video Games on the Human Psyche
Many people have opinions on the effects of video games on the human psyche; most of which are assuming and often demonizing games.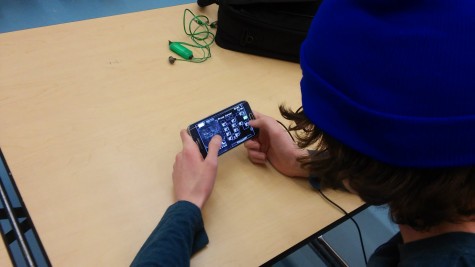 I interviewed people with experience in games, two seniors and a teacher. Senior Kristoff Robson juggles, "around 4 or 5 games" at a time; most of which are first person sandbox games. These games are typically multiplayer; they also tend to not have a goal, but ones that the player makes up.  His opinion on them is that they take up a lot of his time, joking that "they ruined my life."
I asked another senior, Devon Prescott about his thoughts on video games. He claims that the game he plays the most League of Legends (2009) has increased his reaction time. League often referred to as "LoL" is strictly a multi-player game, but with the option to practice against computer played characters. In the game two teams of five push against each other in 3 lanes to destroy the other's home base. An important part of the game is teamwork, planning and strategizing with your teammates.
I asked teacher Mr. Thomas Pleines how he feels about games. He said that the patterns in games were interesting, but couldn't see how to apply the patterns in anything else. Another thing Mr. Pleines said was how social they are; he could play with his brother or friends from near and far, even starting inside jokes with them.
I asked Devon how he feels when he wins, he says "Usually happy, but sometimes it doesn't feel deserved." In reference to LoL. When he wins sometimes he feels upset, others he finds it hilarious, it all depends.
I also asked Mr. Pleines how he feels when he wins; he says he feels "triumph" like you could with any other part of life. Though these days he doesn't play against other people very often.
Kristoff and Mr. Pleines told me they played games when they have the time, though Devon says he "always" plays.
I asked him how games affected him monetarily; he reports to spending at least $200 on League and some more on just buying games. In League you can buy characters to play, or pay for cosmetics, making the characters look different. It is completely possible to unlock every character in the game for free; however you can't change the way they look for free.  That is strictly real life currency based (the game itself is free as well). Several people have noted that the League playerbase is "toxic" meaning that most of the players are rude to one another.
Games that a player like Kristoff plays only has to pay for the games he plays, ranging from $5 to $60 and generally no other transactions.
Mr. Pleines likes mostly just playing MMO's, like World of Warcraft only spends $15 a month on the subscription fee.
I asked them how long their play sessions are. Devon said, "all day; unless I'm watching League." Kristoff told me "30 hours a week" and Mr. Pleines said "an hour or two."