Disney Generation (continues)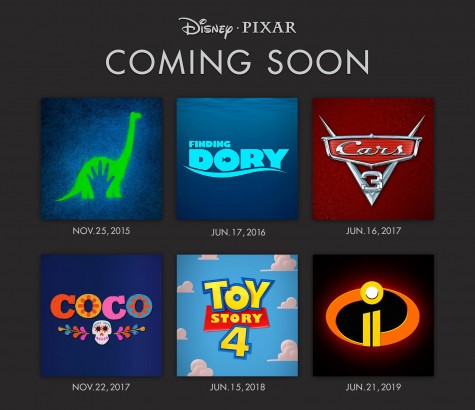 The movies that today's Ipswich High School students watched growing up were mostly Walt Disney movies, consisting of Finding Nemo, Monsters Inc., Toy Story, High School Musical, The Incredibles, etc. The list goes on and on considering there have been fifty-five theatrical animated feature films that have been released since 1995. This list will continue… Walt Disney Productions are planning to release sequences of the following: Toy Story, The Incredibles, Finding Nemo, Pete's Dragon, The Jungle Book, and Dinosaurs. Now, clearly all of these movies are meant to be for children… But the real question is what children are these movies meant to be viewed by: The children of the 90's or the children that are currently growing up right now?
     The first movie that had just been released on April 15th was "The Jungle Book." This was originally an animated film made in 1967 and then later updated in the early 2000s to higher definition/quality. "I would go home from school everyday just to watch this over and over again," said Andrew Gilligan. I then told him that a newer version had just been released and asked him if he had seen or was planning on going to the theaters to see it. Andrew then replied with, "not a chance." This is pretty sad considering it was his favorite movie growing up. I  asked him if it was because he thought it was childish and he said, "Yes, I do not want to be judged by my friends." I think this is a movie that is meant to be viewed by high school students today because it is no longer animated, but I don't know how many high school students/middle school students, including Andrew Gilligan, will actually go and see this due to the embarrassment.
     The next Disney movie that will be released in June of this year is "Finding Dory." In addition to the 2003 "Finding Nemo," "Finding Dory" will continue the story. This was an all time classic for almost all high school students today as they were growing up. "Finding Nemo" has continued to be watched in high school during Spanish class for most students at Ipswich High School. In conclusion "Finding Dory" will be viewed by a few IHS students in theaters due to the recent viewings of "Finding Nemo."
    Finally, the last movie that has some information on it is "Toy Story 4," being an addition to Toy Story 1, 2, and 3. Personally, the Toy Story series were my favorite Disney movies as a child and when it comes out in June of 2018, don't be surprised if you see me in the movie theater glued to the screen. I think this movie is meant for children due to its animation, but I think big fans like myself and Liam Sullivan, a senior at IHS, will go to the movies to watch it.  Liam stated, "Toy Story was great because it taught me all about friendships." In conclusion, these new movies coming out in the upcoming years can be viewed by anyone no matter what the ratings or your age, it's all dependent on your love for the movies.