Beverly Girls Hockey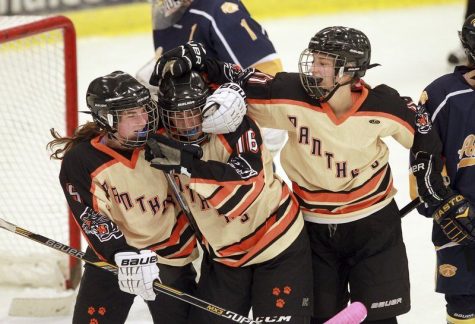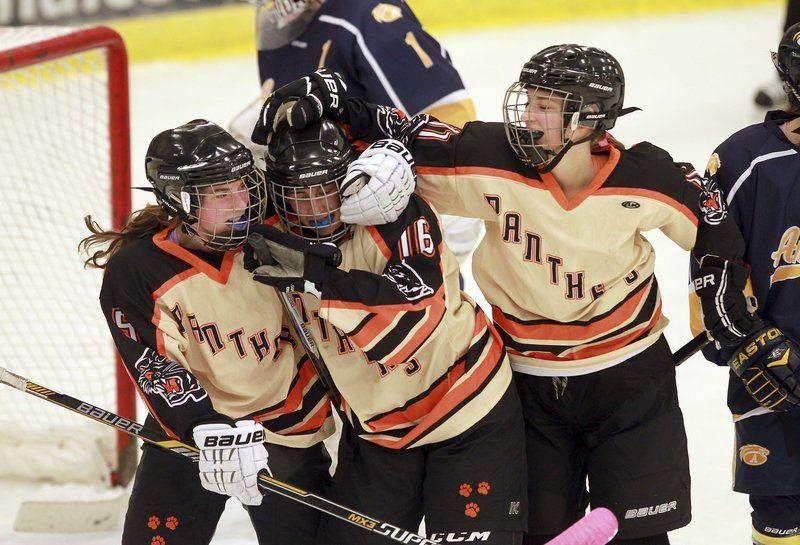 Going into this season, the co-op girls hockey team consisting of Beverly, Danvers, and Ipswich were unsure whether they would be successful. Losing key players, including last year's MVP, seemed to leave the team unsteady. However, after the first few games, Beverly proved not only to themselves, but also to the whole league that they were a real threat. They had an undefeated season up until their last game in which they lost to Wellesley, with a final score of 3-4. That ended their season with an overall record of 17-1-3, and a spot in the state tournament as the #2 seed. Along with this, Beverly was favored to not only make it into the finals, but also to walk away with a state title.
Two of the team's most valuable players, Mckinley Karpa, and Izzy Primack, had high hopes for the season. "My goals for the season are to make it past the quarterfinals and win the state finals," says captain Izzy Primack. Going into the playoffs, Beverly's first tournament game was scheduled against its rival team, MASCO. During the regular season, Beverly faced MASCO twice. The first game, beating them 7-1, and the second game tying them 1-1. The Beverly vs. MASCO tournament game was being talked about throughout the league, with many people rooting for Beverly. On Friday, March 3rd, Beverly faced the #18 seed team, MASCO in the quarterfinals at Endicott college. Fans were spilling out of the stands, and crowding around the rink searching for a place to catch a glimpse at the two battling teams. After the first period ended, the score was 2-1, with Beverly trailing behind. After the third period, the teams were tied with a score of 4-4, meaning they were heading into overtime. Fifteen minutes later, after double overtime and still a tied score, Beverly and MASCO were headed into a shoot out. Unfortunately, Beverly fell short and lost after a hard fought battle, losing 4-5.
This tournament game proved to be a game changer. Although Beverly was clearly the more skilled team, they relinquished the tournament to rival team, MASCO. This loss caught the league by shock, considering Beverly's impressive season record. In spite of the fact that Beverly lost, they should be proud of how imposing their season was. Beverly's head coach, Brian Seabury says, "This team has worked incredibly hard this year, and they deserve to be proud of themselves no matter how disheartening this loss was". With this, the team is ready to come back next season with a vengeance, hopeful to make up for their shocking loss by winning a state title. The league is eager to see how they perform next year, and Beverly is ready to get revenge.