Fortnite Addiction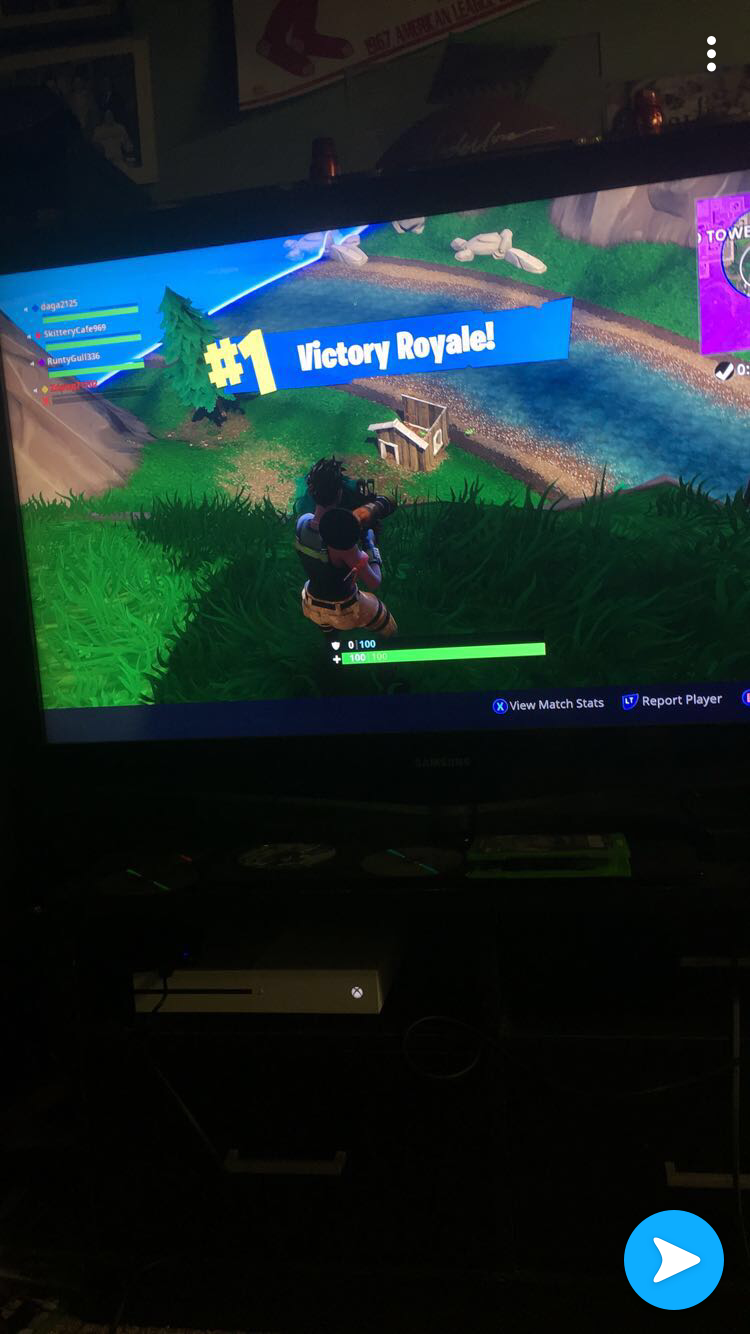 Over the past few decades, new age technology has influenced our society in positive and negative ways. Technology can be used to achieve great things but can also cause us to waste massive amounts of time. Some video games have gotten some people "addicted" over the past few years, but one game has stuck out from the others. You can argue that games like Call of Duty, Minecraft, or League of Legends have caused video games addictions, but they have only harmed a few people. A new game, Fortnite in which a player vs player battle royale style game has 100 people drop on an island and search for weapons to be the last one alive, stands out as the most addictive. This new game has taken over the minds of the youth because it is free, has good content, and is available on PC, XBox, PlayStation, and Mobile.
Fortnite has kept players happy by adding new game modes such as Infinity Gauntlet, snipers only, high explosives, 50v50 and much more. They also keep the game interesting through the battle pass. The battle pass gives weekly challenges which can result in new skins, emotes, and v-bucks. They also have regular skins and emotes that can be purchased without the battle pass for regular money. This has caused many kids to buy things with their parents credit card without their consent because it is automatically hooked up to their console. Kids are spending large amounts of money without their parents permission.
Parents are blaming it on addiction and are trying to get their kids to do other things besides the game. One article suggests that parents should offer other games to play such as plants vs zombies, because there are no humans dying, just plants and zombies. Another recommended alternative is watching war movies like Saving Private Ryan with your kids because it will teach them not to brag about axing people to death. The last idea to help beat the fortnite addiction was to just join them. Trying to play with them either by switching off or getting another console can be a fun family activity.
The addiction with fortnite has even come to our hometown. When I had the privilege of interviewing Lori Zambernardi, she said he her son Andrew Zambernardi plays an upwards of "16 hours a week." A study done by Iowa State University suggests that kids only play 8 hours a week. After 8 hours, it can start to affect your schoolwork and behavior. Another IHS student I had the privilege of interviewing was freshman Justin Bruhm. He claims that he plays "12 hours a week and it doesn't affect my schoolwork, behavior, or lacrosse." For me personally, I can say that I spend a fair amount of time not only playing the game but watching the videos. Websites like Twitch and Youtube are gaining way more popularity because a lot of people want to watch good people play fortnite and learn how to become a better player. Tyler Blevins AKA Ninja, a 26 year old Fortnite phenomenon makes $500,000 a MONTH just on Twitch alone. He also gets money through Youtube, donations, his merchandise, and sponsorships. These big numbers have never come up from other games.
There have been many games like Fortnite in the past like Minecraft: Hunger Games, PlayerUnknown Battleground's, The Culling, which are all great Player vs Player style games where the last man standing wins. Fortnite has stood out to the community because players have the option to build and not have to rely on natural cover and can make their own. I think another reason people love the game so much is because of its simplicity. In the big scheme of things, Fortnite comes down to finding guns, killing other players, and being the last one alive.  This is what separates fortnite from other games and makes it superior.