Starship Legacy: The Next Generation
40 Years of Starship One, on to Starship Two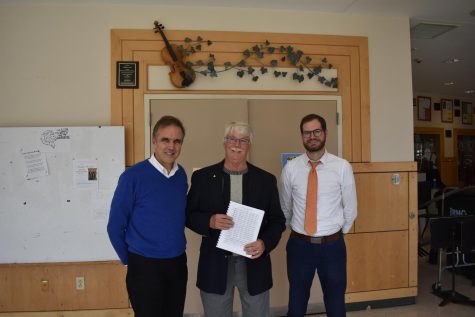 Every student who has passed through the Ipswich Public Schools music program in the past thirty five years is familiar with Starship One, the iconic song that has been performed at Ipswich All-Town Band Concerts since 1986. The legendary song was written by Jay Chattaway, a talented Hollywood composer and band director.
Jay Chattaway was born in 1946 in Monongahela, Pennsylvania. As a child, he was fascinated with space and music. His hobbies included building model rockets and playing the trumpet. Chattaway went on to study music at West Virginia University where he played and wrote music with many different people and bands. While pursuing a graduate degree, he was drafted into the Navy. Naturally, Chattaway had to join the Navy Band. Within his unit, he was the chief composer and arranger. After the Navy, Chattaway began to write musical scores for Hollywood productions. It was in Hollywood where his passions for space and music combined. Chattaway composed music for the hit science fiction series Star Trek. His music can be found in the well-known television shows Star Trek: The Next Generation, Star Trek: Deep Space Nine, Star Trek: Voyager, and Star Trek: Enterprise. In addition to writing music for some other less notable films, Chattaway arranged music for middle school and high school bands. One of those arrangements being Starship One.
In 1986, Gerry Dolan, the band director at the time, was curating a newly formed music program at Ipswich and wanted a piece of music that could be played and enjoyed by musicians from fourth grade to twelfth grade. Starship One fit the bill. Mr. Dolan liked Starship One because "it had appropriate challenges for our youngest musicians that they could handle with some work." Despite being a very playable song, Mr. Dolan acknowledged that "it sounded big and much more impressive than the difficulty level of the piece." The song was performed in Ipswich for the first time in March of 1986 at the All-Town Band Concert. According to Mr. Dolan, "It was a hit right from the beginning." Since that performance, Ipswich band students have played Starship One every spring and the students always enjoy it. Mr. Dolan told us that "It has proved to be a great way to pull together all of our musicians." One senior flautist, Cate Phypers, has been playing Starship One since she was fifth grader at Winthrop Elementary School. She said that "Starship One is such a classic" and that "she has always loved it."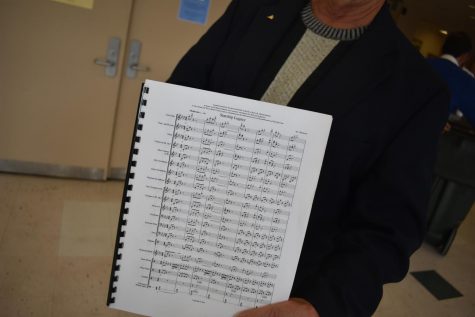 Recently, the Ipswich music department commissioned a new piece of music from Jay Chattaway. This year, Starship One will turn forty years old and to celebrate the occasion, Chattaway has written a long awaited sequel titled Starship Legacy. Mr. Dolan explained the process, saying "We as a music staff, had all talked about trying to commission a new Starship One. Thanks to the leadership and work of Lisa Palance, our middle school band director, we were able to see this commission come to fruition. Mrs. Palance applied for a Payne Grant to commission Jay Chattaway." The Ipswich concert bands have already began rehearsing Starship Legacy. In early October, Jay Chattaway came to Ipswich to help the students with the new piece. During his rehearsal with the high school concert band, Chattaway expressed his love for music composition, saying that it is "really is an addictive thing." Dolan told us that Chattaway "had a question and answer session with each band, which provided our students with a unique view of the creative process of composing music. He also was very gracious with his time and met with a number of students one on one to discuss composing." Chattaway told the students that working with a piece from beginning to end was very exciting. He told us that nothing beats hearing an original piece, that he has spent hours on, performed by an actual band.
The new piece, Starship Legacy, and the original Starship One will be performed back to back this Spring at the thirty-third Ipswich All-Town Band Concert. Mr. Dolan told us that "[Chattaway] will be back in April to hear his music, meet with students and conduct his piece for the All-Town Band Concert." This will be a historic performance for Ipswich High School staff and students. Cate Phypers expressed her excitement saying "I can't wait to show everyone."