Journey to the Tourney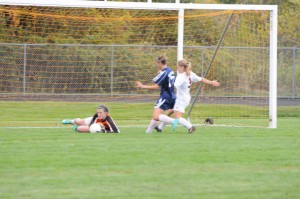 For the past several years the Tigers have made their way to the tournament, and this year the pressure is on. Varsity head coach, Nancy Waddell, has noticed this all too well. At the start of the season the team is used to having three scrimmage games to warm up for the upcoming league games, but this year pre-season started later leaving room for only two scrimmage games. With less time to prepare, the girls were forced to learn to work together with new members of the team and continued on through the first couple games. Although the team came out with a 2-1 win against Amesbury for their first game, Waddell knows there is still a lot more to work on. " We play with a lot of heart which is crucial because many of the teams we play against are more skilled, but we have to be focused and mentally strong to continue to compete" she mentions.
How does Waddell's coaching style reflect the team as a whole some may wonder? It's simple. If they work their hardest the entire season than she knows her job is complete.  She states,  "I expect the best from my players. I expect them to work for each other and push each other".  Seeing her players truly enjoy the feeling of success after a game is what Waddell loves about coaching the team. Winning is something that everybody strives for, and when the tired faces come off the field at the end of each game she knows that each and every player gives it their best to come out on top no matter the outcome. Waddell, in her interview, talked about the Masco game as being a great example of this. "We knew we needed a complete team effort with no mistakes. We didn't win the game, but we held off a powerful offense and earned the tie".
Key senior midfield player, Katie Monahan, feels the pressure of this much needed win to keep the girl's team reputation of making the tournament alive for another year. "Injuries are always a problem on any sports team, and this year they have hurt us pretty bad", commented Monahan. With injuries taking experienced players out of the game, younger players have been stepping up to fill those spots. "Sydney Law went from offense/outside mid to defense and she's been really strong there. Also, Joanna Perry is really good at finding the best passes and she's smart out there". After senior midfielder Hannah Wallis re-tore her ACL again this year the younger players have needed to improve quicker than they normally would to fill the gap. Along with just filling the gap, players who normally would play defense have had to step up to play offense. "It has just been a learning year all around for all of the younger players. It has been good experience for all of them to know what it's like to be on varsity for their upcoming years", adds Monahan.
In all, the Tigers want to add a sixth consecutive trip to the tournament. Although the team is more defensively minded, they have been able to pull off enough wins to only need one more to qualify. "Hopefully our three scoreless ties don't come back to be three points we really needed", says Waddell. With practice through their weaknesses and continuing on with their strengths the Tigers hope to gain access to the tournament before it becomes too late. In her interview, Waddell states, "We want to make it there with games left in the season, so we have that time to really practice what we need to work on instead of worrying about whether we will make it in or not".
For now, it is only hard work and practice that will allow the Tigers to be completely satisfied with themselves. Monahan shares opinion on how she believes the team will do by saying, "I think we can go far because the past three years we have been seeded pretty badly and have managed to make it to the finals 2 out of 3 years. We are good at stepping up when we know we need to". It isn't going to be easy to beat those teams who are already in the tournament, but team work through our Tiger girls will hopefully bring satisfaction in the end.
Leave a Comment