Faces in the Crowd of IHS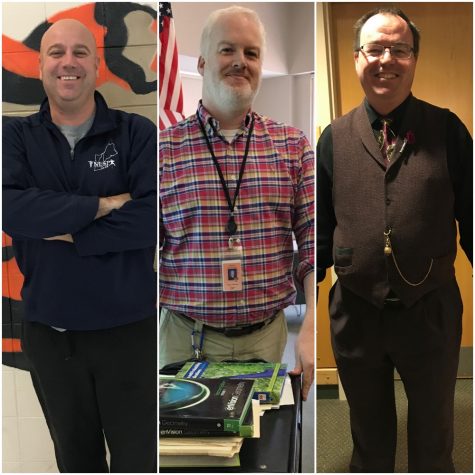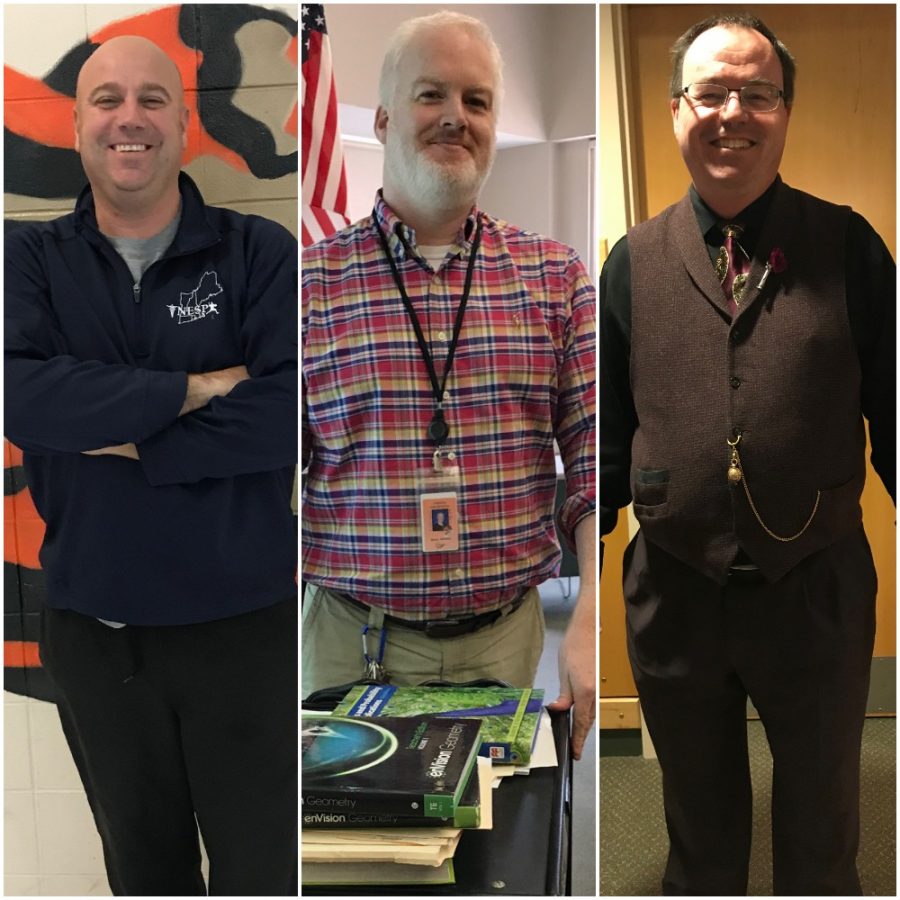 When you hear Ipswich High School, all people think about is lacrosse winning states or volleyball going to the finals. What people don't think about is the wonderful teachers who are there almost every day having to deal with all of these kids. Teachers are the ones who the people should really think about, and there are three teachers in particular who make IHS memorable. These three teachers are Gardy, Mr. Mabbott, and Mr. Cordiner. All three of these individuals have unique stories that should be shared. Each person has a remarkable story about the path they took to become a teacher. Teachers have a lot to share, and some of it the students would love to know.
When talking to gym teacher Gardner O'Flynn, also known as Gardy, he was able to give a more in depth background  story about where he was a professional baseball player. Gardy said, "I grew up in Ipswich and I lived in other places when I played professional baseball, but once I got a teaching job here in the early 2000s, I decided to move back. When you go other places in the country, you realize how lucky we are to live in Ipswich." Gardy loved playing professional sports, and he summed up his favorite part about his career by stating, "Just the guys on the team. The daily regiment of workouts I always enjoyed and I didn't mind getting a paycheck for doing something I liked to do. " This was a very refreshing answer to hear. We liked that he didn't state the paycheck first; it showed that he really was passionate about his former career.  When asked to discuss his past career, he said, "That's a tough question. Unexpected. I was not even the number 1 pitcher at Ipswich High School. I was lucky to have great coaches in Steve and Barry Hopping, and I just developed late as a left-handed pitcher. I did not really realize what I was capable of until my sophomore year of college. Mrs. Murphy's grandfather, who was one of the most famous scouts in the nation, saw me play at UNH and got me into the Cape Cod Baseball League. From then on I knew I had a shot to play professional baseball. I got drafted, and my career started." 
When asked questions about his high school career, he said, "My best sport was basketball. I was the Cape Ann League Player of the Year and that's what I thought I was going to do in college, but once I got to college I approached the baseball coach in the summer and made the team in the fall. Then I tried to play basketball at the University of New Hampshire, and I think I would have made the team but I don't think I would have gotten any playing time. That's when I realized baseball was my best long term option," Gardy claimed. When asked why his professional baseball career ended, Mr. O'Flynn stated, "I got released. So basically what happens is you get to a point, like I was in Double A and I worked out with Big League camp and Triple A, and it just becomes a numbers game. I got released by Texas in 1997 and then I played Independent baseball and I did really well, but back then it was really hard to get into an organization because every year they draft 50 players. They are getting players from the Dominican and other countries. I would have loved the chance to keep playing, but also I was 27 so I wasn't very young compared to a lot of the kids getting drafted." When asked who his biggest influences were, Gardy responded, "Probably my brothers. They were all college athletes and you know what I learned, this is what I try to teach the kids, that you are going to make mistakes in life but everyday is a new day."
The next teacher that was interviewed was Mr. Mabbott. He grew up living in Scotland and now lives in Salem, Massachusetts. In his free time he loves to spend time with his two year old daughter. "She takes up a lot of free time, but she's a lot of fun to be around," he says. He and his wife are both teachers; they find a way every two years to go on a big trip as a family.  He explains, "In 2011 we drove to Mongolia in Asia; in 2013 we cycled from Paris to Istanbul in Europe; in 2015 we cycled North to South across Europe to Venice Italy, and then 2017 after my daughter was born we went on 10,000 mile road trip of the U.S. and Canada visiting national parks and stuff in that like ugly blue van out in the parking lot.  That's mine." The way he found his way to Ipswich was due to the fact that he is a "career changer". He hasn't always been a teacher; before this he was a project manager for construction companies. "But, before coming to Ipswich I taught in Saugus for a while and then an opening opened up here and I was lucky to get the job," he explains about his career.
Thinking about the question who is your biggest influence, he responded with, "I like tracking my own course type of thing, people who go slightly beyond the norm." Most people do not know this, but one thing he would want to go back and change from the past is, "High school was a tough time; you know probably being shy in high school, you know trying to like, if I had to go back I would probably be more outgoing and more social type of thing." As interesting as this man already is one more fact that people may not know is that he is a teacher of Scottish dance.
The last teacher that was interviewed was Mr. Cordiner who lives in Danvers, Massachusetts. He is a teacher who everyone is impressed with by seeing his very fashionable outfits everyday. A questions students might be wondering is what did he do before he was a teacher, which he replies with, "Ready? I was a stained glass artist, and before that I was cartographer/ software engineer, before that I was a ranger in the U.S. Army." Many people maybe did not know that he was in the U.S. Army. The reason he joined though was, "I wanted to serve my country; I think I needed a period to find myself." When talking about his biggest influence, he instantly said, "My mother, absolutely." Besides the Army another thing that many people might not have known is that he has a pet turtle, "Snickerdoodle is her name. Her name was original; the previous owner named her nobody. I was not going to have my little girl go through the rest of live being called nobody. I care about her self esteem." One thing that he regrets would have to be that, "I wish I had gone into teaching back in 1996. I found myself. I found my calling. It would have been nice to be into this now for 25 years or so."
In conclusion, we are lucky to have some very interesting teachers. Talking to these teachers has really allowed us to connect more with them and has expanded our knowledge on the matter of who they really are besides just another teacher. Our teachers are very genuine, special people. We are lucky to have them, and they are lucky to have us.