2014 World Cup
Is Brazil ready for the 2014 FIFA World Cup? This question has been tossed around a lot given the recent strikes in Brazil. The Maracana Stadium is still slick with plaster dust from construction  for the Confederations Cup final in the past months. As fans inside were celebrating after each of Brazil's three goals over Spain, a scene was unfolding outside. Thousands of protesters were facing off against police in riot gear. The sounds of celebration after the game were soon replaced by hissing tear gas canisters and fireworks. Not celebratory fireworks, but protesters hurling fireworks towards police. This Confederations Cup final was supposed to be an international showcase of what to expect from the country ahead of the 2014 world cup. Does this mean we are supposed to expect more than 5,000 anti-government protesters gathered before every match?
When inequality in Brazil fell, protests began to arise. In other words, life inside homes were growing progressively better, while life outside homes were not. Many Brazilians are rising up from poverty and forming a new lower middle class known as "C-class". Many of these new "C-class" Brazilians are now able to buy their first phone, computer, and car, creating a new consumer market. The material goods that c-class members are now able to buy do not make up for the failing social services around them such as health, education, and transport. This is the main cause of the riots. In the last year, Brazil spent twice as much refurbishing and constructing stadiums for the world cup than on basic sanitation. Teachers salaries are low and public schools are lacking resources. The issue of transportation is very big in Brazil, because it is not easy to earn a car. So in a way it is not surprising that when bus fares were raised in June due to tourism for the Confederations Cup, a massive riot broke out. More that 7,000 people took to the streets of Sao Paulo and Rio to protest the increase in bus fares. Police fired rubber-coated bullets, tear gas, and detained more than 200 people. Police say they seized petrol bombs, knives and drugs.
The World Cup will go on in Brazil. The government is too far down the line for it not to. It is no question that protests will occur. In order to give people a more local perspective, I asked Alex Profit, assistant coach of the jv soccer team this question; "How would you feel if you were attending a soccer game at Gillette Stadium while the people of Foxborough were protesting against money spent construction done do the stadium instead of much needed public sanitation? Moreover, they were gathered there hours before the game and it's starting to get violent". His response is what you would expect, "Well first off, I would not feel very safe attending an event if people were getting in a violent protest outside from us being there. I would just feel guilty attending the game knowing that the money should have been put to more urgent situations. And given this perspective, I understand what is going on in Brazil." There is also the question of whether or not the World Cup will bring the people of Brazil together, at least just during the world cup, and it be a time of peace. This is very probable, given how big soccer is in Brazil.
The stadiums are ready, but the Brazilian people may not be. Specifically, c-class Brazilians, which makes up nearly half the population. Millions of people will flock to Brazil for the world cup despite the high possibility of protests occurring. Brazil is experiencing great change, but there is still much change that needs to take place. The world cup can either make or break that. Ipswich has a lot of soccer fans who will have their eyes glued to the television during the world cup. Just remember its not all about what happens inside the stadiums.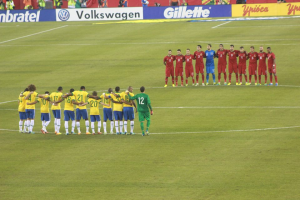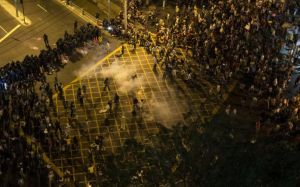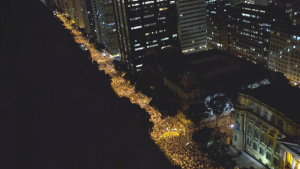 Leave a Comment