The Prized Patty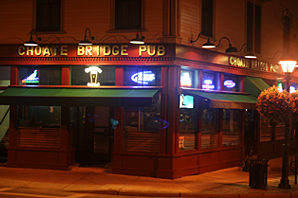 The town of Ipswich is a historical landmark. It includes houses that date back to the early 1630s, Cranes Beach, and even the Clam Box. It's a real hotspot for tourism.  From a townies point of view, they see Ipswich as a small and beautiful town with a lot of scenic locations and restaurants to eat out. Well, our goal was not only to find a good restaurant with appetizing food, but to see which restaurant had the best burger.
Not knowing where to start, we (Dylan and Cam) researched a couple of restaurants in Ipswich that had a good selection of burgers on their main menu. Believe it or not, there weren't many places that specialized in burgers. After coming to a conclusion on our own research project, we found that there were three restaurants that seemed to meet the criteria of what we were looking for. Those places were Audrey's Kitchen, The Choate Bridge Pub, and The Brewers Table or also known as The Ipswich Ale Brewery. These three establishments seemed like perfect places to visit, eat in, and review. The rules are simple; each burger will be rated out of 10, 1 being the worst and 10 being the best. The burger will be graded in three categories; how it's presented, its taste, and any other miscellaneous factors that lead to our scores decision. Each burger will be ordered medium rare. These methods will be used in order to conclude our journey in finding the best burger in Ipswich.
The first location we decided to try was none other than The Choate Bridge Pub, or as locals simply call it, The Choate. When asking Ipswich local Sam Fitzpatrick which place out of the three had the best burger, all he had to say was "The Choate, easily the pub burger". As you walk in you will be greeted with a classic family/sports bar vibe. For sports fans, you will always be delighted to have your local sports game on. For families trying to get a relaxing bite to eat, there is plenty of quiet space outside from the bar. The burger here is known as The Deluxe Pub Burger, which meant we were in for a treat. Service was fairly quick and the burger looked great. It was a normal looking ½ pound patty, topped with cheese, ketchup, lettuce, and tomato. All contained in the chef specialty onion bun. Upon the first bite, we both were very delighted. The burger offered a great mix of flavors while also staying traditional and simple. We both agreed that "The Deluxe Pub Burger" was nothing short of deluxe. Due to its prominent taste, and classic demeanor; we rated the burger a solid 9.2/10.
Next, we took our trip not far down the road to The Ipswich Brewery. We went later in the evening, so it was no surprise that the establishment was very busy. It took a while to be seated and even longer to get our food. However, we were able to look past this due to the crowd. The presentation of the burger was solid. It sported a slab of american cheese, lettuce, tomato, and a white bread bun. It tasted very good and was indeed juicy. Each of the flavors match well together. The one drawback was the greasiness of the burger. While prominent in many burgers, we found ourselves having to constantly wipe the grease off our hands. It was present in the taste as well, overpowering what could be the best parts of the burger. This burger was given a 7.9/10. Definitely not bad, but falls short of being great.
Lastly, we went to Audrey's Kitchen. The price for the burger, being $6.50, seemed to be very affordable. But, that wasn't the criteria it had to meet to be a good burger. It was presented to us on a cheap yet charming white paper plate. It came with a fresh, slightly toasted, buttered sesame roll. It was cooked medium well with the lettuce and tomato on the side, which was very courteous because it takes the customers preference into account. It had a firm anatomy, with the patty having a height of about ¾ of an inch. And  to finish it off, it was pretty darn good. Firm bite, with minimal juice, and a ripe taste that represents what a burger should taste like. It's hard to pinpoint where this burger falls short. However, it did seem to lack in taste. It's possible the ingredients didn't mix well. Despite this, Audrey's Kitchen burger was given a solid 8.7/10.
We put together our opinions and data and found that the best burger in the town of Ipswich, Massachusetts, is from The Choate Bridge Pub. While the others we reviewed were great, and definitely deserve their praise, The Deluxe Pub Burger takes the cake: or in this case, the sandwich.