Tiger Tots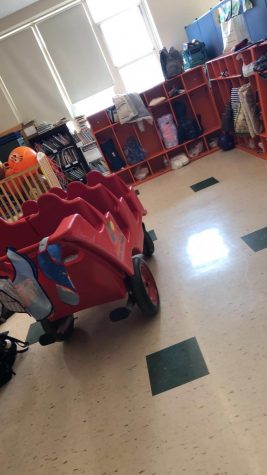 For more than twelve years, Ipswich High School has been offering a daycare program within the high school called Tiger Tots. The daycare was initially created for the teachers that work in the Ipswich School District who have young children from infants through preschool. This program makes it easier for teachers returning to work because they are able to have vacations off with their children and they are in the same building. Students that attend Ipswich High School are able to enroll in Tiger Tots as an elective during school hours. This can provide valuable experience for students who would like to pursue careers in Early Childhood Education, nursing, and nannying.  
One of the greatest benefits to the parents and children who participate in Tiger Tots to spend your days in the same building. One of the full-time staff members who oversees the toddler program, Miss Biffy, explains,  "Having your children in the same building as your work space makes busy mornings much easier. You are able to know if your child is sick or having a rough day much faster." Miss Trish, who oversees the preschool-aged children,  sees the close proximity of the daycare program as mutually beneficial to the high school students and Tiger Tots children: "Mixing the highschoolers with the children of Tiger Tots is a wonderful idea because they develop relationships and wave to one another in the halls and outside of school." 
Tiger Tots has many activities throughout the day to keep the children busy and involved. The preschool has class themes each week, such as "animals," "the solar system," and "the alphabet."  The children then read books, sing songs, and create art, science, and math projects that are based on these themes. The toddlers have gym time during which they play with balls and hula hoops. They practice valuable life skills such as cooperation and sharing. The infants have "tummy time" to help them strengthen their cores and learn the skills they'll need to crawl. 
Tiger Tots is very fortunate to have a highly qualified, dedicated, and creative staff. Miss Trish, the preschool teacher, had a double major in Psychology and Art in college. She was drawn to this career because she enjoyed being around children. She explained, "I got my certification in Early Childhood Education and combined the two [fields of interest]!" She has been teaching and/or directing an early childhood program since 1990 and has been at Tiger Tots for 11 years. 
Grace Campanello, a senior at Ipswich High School, took Tiger Tots as an elective last year and currently works at the program. When asked why she continues to be involved, she explained, "I just really like being around little kids because they have such a different way of thinking. They're in the moment, and everything's so interesting to them." Furthermore, she plans to attend college to study nursing, and is especially interested in pediatrics. When asked if there was anything she would change about the program she replied,  "I wouldn't change anything about the program. I think they do such a fantastic job."