Terrified and Loving It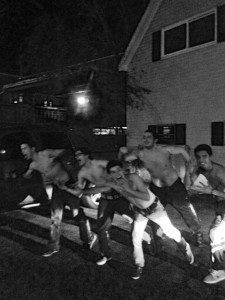 After watching "The Following", you will feel like these IHS students running from fear.
Why is there an expanding market for fictional shows designed to terrify? We are seeing a large influx of spooky, scary and sometimes downright disturbing programs on television. From long-running shows like Dexter to newer ones like American Horror Story, Bates Motel and Hannibal.
There's no denying that viewers have developed an appetite for dark TV. Over the years, this dark side has become progressively more grim. A half century ago, the famous shower scene in Hitchcock's Psycho never actually showed the victim getting stabbed. Today, that scene would be shot with multiple close-ups of the actual stabbing. It's chilling that even though we live in a time when what we see on the news should be scary enough to fill anyone's need for that, we seem to be seeking it out more than ever.
We watch these things because it allows us to channel our real world fears into a form of entertainment. When the mayhem is over, we can turn the TV off. So, when we watch the unimaginable horrors unfold on a fictional victim, we feel safer. Our pulse starts racing and the hair on the back of our neck stands up, but we still know we are safe from the harm. There's something powerful that brings people to watch these things, because it's not logical. If one was to predict human behavior, he or she would most likely say people are motivated to pursue pleasure and avoid pain. But it is arguable that modern horror films serve many of the same functions for the adult that the fairy tales serves for the child. They are designed to bring out strong emotional reactions from viewers, and this is why we love them.
If you are looking for a modern horror television  show that will firmly grip your emotions, look no further than "The Walking Dead" on AMC or "The Following" on Fox. Both are relatively new, but the show put on by Fox is an infant compared to "The Walking Dead". "The Following" will air its season 2 premier this January while "The Walking Dead" is already on season 4. Both of these shows can serve as your modern, twisted, fairy tale. Why not add a dose of horror and suspense to your weekly routine?
"The Walking Dead" stars Andrew Lincoln as a sheriff's deputy, Rick Grimes, who awakens from a coma to find a post-apocalyptic world dominated by flesh-eating zombies. He sets out to find his family and encounters many other survivors along the way. "The Walking Dead" has received many award nominations, including ones form the Writer's Guild of America Award and a Golden Globe Award for best television series drama. 16 million viewers tuned in for its season 4 premiere, proving that there is an expanding market for horror. Senior, Bayron Contreas, says it's the "best show he has ever seen". He follows on to say, "The show keeps you on your toes waiting to see what comes next. You never know who the next victim will be".
"The Following" is about an FBI agent trying to catch a serial killer and his murderous cult. The series was created by Kevin Williamson, mastermind behind other horrors such as "Scream". Ryan Hardy (FBI agent played by Kevin Bacon) soon discovers that Carroll (the serial killer) has surrounded himself with a group of like-minded individuals and turned them into a cult of fanatical killers specializing in the dark romantic works of Edgar Allen Poe.  Season 2 premieres this January.
There is an expanding market for fictional shows designed to terrify because people love being scared. There's no denying that viewers have developed an appetite for TV with a dark side. These shows are designed to bring out a strong emotional reaction from you. They are sure to keep your pulse going. There's no doubt you will love them; go and see for yourself.
Leave a Comment