Mask Breaks or Brain Breaks
As COVID-19 continues to impact the nation and the world, schools are still finding ways to cope with the pandemic. One thing that we can all agree on is that mask breaks are a good thing. Some students see it as a chance to breathe i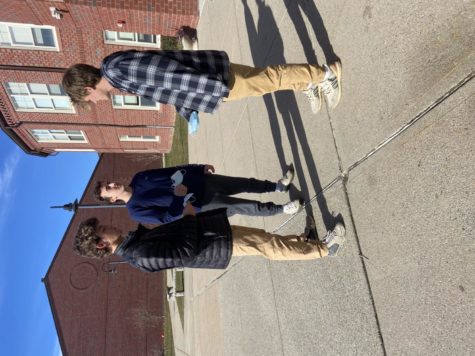 n the fresh air and others see it as a chance to chat with friends or teachers and get a break from sitting in the classroom. Mask breaks have their benefits; students become socially closer to their peers and teachers, and help reduce the stress that comes with being a modern day high school student.
Other articles that talk about benefits of brain breaks say that breaks improves memory, reduces stress, serves as an energy boost, and improves hea
lth and boosts performance and creativity for students.  When interviewing our Principal, Mr.Mitchell, he said that he supports mask breaks and that  "It has been good for the culture, some bonding between teachers and students outside of the classroom." He also thinks they are a good takeaway from the pandemic. Despite all the struggles that have come with the pandemic, these mask breaks are helping ease the stress of students. Overall, students are finding mask breaks an opportunity to get some fresh air and a break from the classroom. 
On the other side of the equation, some teachers are seeing mask breaks as a waste of time and a disruption from the classroom. These teachers refuse to bring their class outside and are not required to do so, even though mask breaks appear to be useful and benefit students. When talking to other students they agree it is hard to focus during long period classes and especially during the warm months we are in school. Like most high schools, Ipswich High School does not have air conditioning. Students agree it was already difficult to learn in a scorching hot classroom before the pandemic, and masks have only made it worse. Riley Turner, an IHS senior, thinks that masks breaks help reset the focus in class. She says, "For me I enjoy the fresh air and being able to talk with my friends is a good pause throughout the class and day." Many hope even when we are done wearing masks that these breaks still continue. Even Mr. Mitchell agrees that these breaks definitely contain value to it and when asked if he thinks these should continue in the future he says, "Yes, at the teachers discretion, when students' energy starts to lower in the classroom it would be good to reboot and take a break to get fresh air…if teachers and students are finding these helpful, I would not put a stop to them."  
The majority of the student and even staff population would agree that mask breaks are a positive take away from the pandemic. Whether it is to breathe normally, have a movement break, or chat with friends and teachers, masks are definitely a positive addition to have at IHS.