Fun Things to do in the Winter in New England
Are you looking to have fun in the winter even if you're not the biggest fan of it? Well we will be showing you all the fun activities to do in the winter along with the people we interviewed to get a bundle of great ideas.  Marshall and I are very experienced with having fun in the winter for we have been doing a variety of activities for years. We make sure to go sledding at least once a year in the most exciting spots around. Although we may have gotten too extreme and suffered major injuries in the past, we wouldn't trade those memories for the world. We also make sure to go pond skating at our local ponds once it gets cold enough. We stay out there until you can't see anymore, and this year we are finding a way to light it up so we can stay out even later. We recommend these activities especially for people that haven't tried them, or haven't done them in a while.
I interviewed my brother, Will Vanderbilt, someone I have been enjoying winter activities with for years. I even remember attaching sleds to snow mobiles and getting dragged and whipped around outside from sunrise to sunset. He chose to talk about his experience up in New Hampshire when he rented an airbnb to ski at gunstock. He said it was fun to hangout and watch the Celtics game with all his friends around the fireplace with the dinner that he and his friends made all by themselves in the kitchen. This was a new experience for most of his friends, especially the ones who didn't go to college and were not used to living on their own. They had plenty of beds for everyone to stay in and they woke up early and got coffee, ready for a long day of skiing ahead of them. They went out and had a blast all day getting better and better at skiing as they went. By the end of the day they went back and did the same thing with a nice cozy fire with snow surrounding them outside. This is something that he recommends to everyone even if you're new to skiing. It's something I am encouraged to do and maybe ask for christmas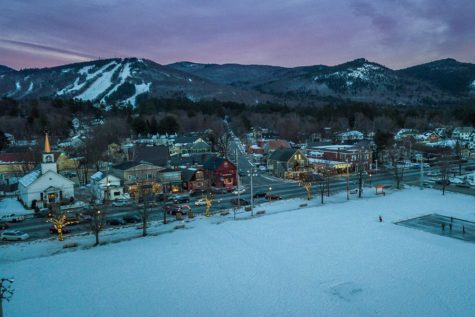 Although skiing seems to be the most common wintertime activity for people living in New England, I interviewed Finn O'Connell whose favorite part of the winter is snowmobiling. Every winter Finn and his family take a trip up to Maine and go snowmobiling. Snowmobiling is one of my favorite wintertime activities as well. The entire experience from start to finish is a blast. Even the drive up is alway scenic once you get into the mountains. After you get settled into your cabin and go for that first ride, it is a feeling that's tough to beat. Most people will talk to locals, find a cool destination, usually a restaurant, and then mark up the map to set the route for the day. It is a really fun experience partly because of the feeling of adventure that it evokes. The whole experience of being somewhere foreign to you and journeying to a destination with your friends and or family is something that everybody should try. I realize that most people don't own snowmobiles, but you can rent them at snowmobile dealerships near the trail heads. Snowmobiling is something that has always been a part of my life since I was very young, and some of my best memories are on snowmobiles, this is something that everybody needs to try doing.
In conclusion, there are many great wintertime activities for those living in New England, including skiing, snowmobiling, sledding, skating and much more. Many people bundle up and stay inside all winter, but for some winter is the best season of them all. People need to realize how much there is to do around here in the winter. If you haven't tried some of the activities we mentioned, you really don't know what you're missing out on.