Ipswich Engineering RC Car Teams
As we all know Covid-19 has made a huge impact on families across the globe. Covid has restricted daily activities that everybody would go through. Today we took a deep dive into how it has impacted our local race team from the high school. At the Ipswich High School we have a class called engineering projects with Mr.Gallant as the teacher. This class has about 30 kids split up into two different teams with the goal of making it to nationals for the Ten80 competition of building and racing rc cars. The Ten80 competition is located in different cities every year and the students get a once in a lifetime experience to travel and work as a team against other high school teams that are from all around the world. Covid has affected this program worldwide and here are some things that it has done.
Before Covid-19 this program at the Ipswich High School was the best it has ever been, with no travel worries and not waiting too long to get any car parts. Now we are masked and haven't taken any trips within the last couple years. It is also a lot harder to get car parts due to shipping delays. When we were talking to other students in the class they all brought up how long it takes to get repair parts to fix the car. When we talked to Marshall, who is a student in Mr. Gallants Engineering Projects class, about his main concerns with the trip he said, "my main concern is that there will be a big covid outbreak and the whole trip will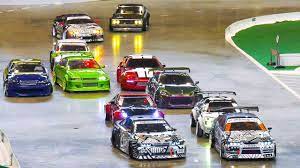 be canceled but even with this being unlikely I am happy that the trips are back." This was an occurring statement that we heard several times from other classmates in Engineering Projects. 
We interviewed the teacher running the whole program, Mr. Bill Galant. As we talked about the race team's future plans including a trip to Florida, we discussed the safety of the trip. As we asked about the safety of this trip now he said,"as the vaccination rate increases it makes me feel safer to go on this trip." Now, Ipswich's vaccination rate is above 70% and on its way up to 80% it makes everybody feel a little bit safer about traveling. With new vaccination mandates you are required to be vaccinated in order to fly on a plane. This is not only used as encouragement for students to get vaccinated but also keeps everyone safe. This also means that if there is a covid outbreak in the school there is a chance that the whole trip will be canceled.
Overall, the whole class is looking forward to this trip so they can show off their years work in the class. Everybody is also taking all of the necessary precautions in order to stay safe leading up to and being on the trip. The whole class knows what has to be done in order to get ourselves to finals. So, as the class strides towards success we wish Mr. Gallant luck.