IHS Made a Splash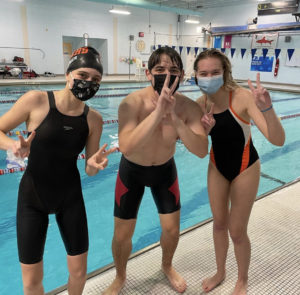 "This team is truly special," stated IHS swim captain Jack Parr. The swim team at Ipswich High School does not get enough recognition for their amazing sportsmanship and hard working athletes. The team has been a part of the Ipswich High School community for years; however, many people do know about it. The captains this year are Lizzy Bova, Jack Parr, and Amelia Cormier and they are coached by Barbara Machaiek, who is the team's new leader. At IHS, swimming is a co-ed sport that practices daily and has several meets throughout the winter season.  Not only will this sport allow you to master your skills in the water, but according to those on the team, it will also help with your communication and team building skills.  Each meet the team works together to achieve personal goals and set new records.
This year, the swim team has not had their best record. Unfortunately, due to the small number of swimmers, they can only do so much. Even with covid hitting their season in the last previous years, they still have had a lot of hope and progress throughout their seasons.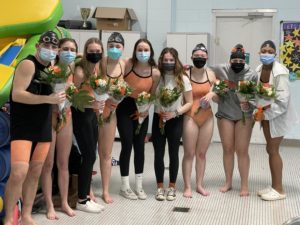 Other schools have up to 30 boys on their team, while ours only has 5 boys. Making it a lot tougher, and creating a lot more pressure on them. Despite this challenge they have shown great sportsmanship throughout the season. 
Captain Jack Parr said, "You will always catch us screaming our lungs off during the meets to support the swimmers in the pool." The sportsmanship of this team is amazing. In previous years they have won multiple sportsmanship awards, showing how uplifting and positive this swim team is. 
Another one of the team's outstanding attributes is personal growth. The captains emphasized how much their team has grown this year in and out of the pool. In the pool, many of the swimmers have qualified for states and sections. "We also expect our girls' team to fare decently at the CAL meet considering they placed second last season and have been neck and neck with all the other teams this season," Jack said. Out of the pool, the captains describe the team as "upbeat, supportive, and fun."
 The team definitely knows how to have fun. From yelling and cheering at swim meets to having a festive secret Santa to help the team bond, this is one team who truly enjoys each other's company. The practices also are a blast; not only are they practicing to get better, but the practices involve competitive swim games. They also have Fun Fridays, which is a day of practice set aside for games. According to the captains, "We also love to have fun during practice, whether it be playing games in the water or singing to music in between sets, the environment is always positive and vibrant. This team is truly special and even though we don't win all the time, we are filled with heart and we always see that as a win." To bring the fun into swimming with music, this year they were having Taylor Swift Tuesday. 
Not only do they have fun, but this team is determined to improve. They wake up early in the mornings for 6 am practices. During dry land days, the swimmers get a workout outside of the water, consisting of sit ups, pushups, and stretches. The support and encouragement the team gives each other is amazing and shows how people can come together and bond playing the sport they love. Some of the swimmers who have never swam before get just as much of the love as the swimmers who have been doing this for years. That is what makes this team special. 
If you are looking for a positive experience at IHS, do not hesitate to sign up for swim- even if you have never tried it before. They are very diligent in their work and encourage others to do their best. This group is hopeful that others will join the team and increase its numbers throughout the upcoming years. The swim team is inclusive to all skill levels. Captain Jack Parr wants everyone to know, "That due to the positive nature of the team and no matter how advanced in swimming you are, you will always feel a part of the team and grow."