Tigers, Vikings, or Both
If you are looking for something to do this winter, check out the boys ice hockey team. You'll see maroon and white all around at the Talbot Rink in Gloucester every Wednesday and Saturday night. Repping the maroon and white Rockport colors is not only the Vikings themselves, but your own fellow Ipswich Tigers. 
Ipswich doesn't have their own hockey team, but they combine with Rockport and Manchester-Essex to create a co-op team. However, it wasn't always this way. Ipswich had their own hockey team until 1996.  They then joined North Andover for two years, took one year off after that with no team, and eventually joined Rockport around 1999-2000. The last time Ipswich had their own successful team was in 1970 when they won the twin league state championship.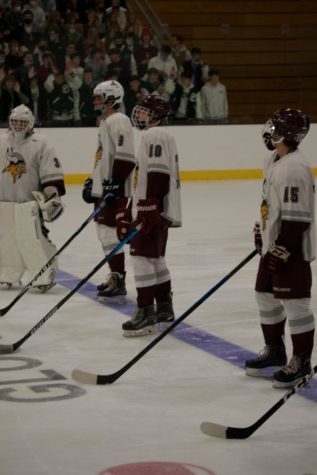 Obviously, each year can present challenges for any new team trying to bond,  but it is even harder when your team is made up of players from three different schools and towns.  It is difficult for the players and coaches. Varsity coach and former Vikings hockey player, Kyle Nelson, says that, "coaching three towns is a challenge in so many ways, especially because I teach in Rockport. I don't get to see the majority of our players throughout the day to check in and talk about things. It also makes it difficult to do off ice team building activities because the travel is different for everyone." 
Being on a co-op team definitely has its downsides that make the team harder to succeed, but there are also many benefits. While on a co-op team you meet so many new players outside of your town that have different playing styles, as well as creating so many more connections outside of your school. Captain Aiden Arnold agrees and says that in his opinion,  "it can be difficult to create a team chemistry at first because not everyone goes to the same school, but it's a really interesting way to play a sport and meet new people. It's cool to see the different playing styles and culture that are present within one team." 
Coach Nelson took the head varsity coach job three years ago and has made a huge impact on the team so far. It's hard enough to coach up high school boys from three different towns and get them to execute the right plays.  However, the pandemic has been an issue since the start of Nelson's coaching career. Masks being a burden for the players and occasional shutdowns due to close contacts have all contributed to a difficult coaching environment. Nevertheless, Nelson has remained positive and supportive throughout the past challenging years. He says that, "coaching a team I played on is an interesting experience for sure. There are brothers of some of my teammates that I am coaching now, and you know the families from when you played so it's very familiar. Having played and had success with this team has made me want to get the team back to that level even more." Having a coach that works hard to keep a good mindset for the team and is constantly putting in a ton of effort to get the Vikings to be a successful team like the one he had played on, helps the players and hopefully their road to the playoffs. 
As of right now, the Rockport Vikings are now 5-8 in division four regular season standing. The players, fans, and coaching staff have high hopes to make the playoffs if they continue to play with the same intensity they have had in recent games. Vikings fan Evan Stein says that, "it's an adrenaline rush every time they step on the ice," and he hopes to continue to watch them succeed and keep progressing through the season.