IHS Future Plans
At our high school, seniors have started to decide their own plans. Do not stress though, not everyone has. It's a great feeling to finally be certain and know what the next years of your life will look like. But, it's also important to take time and thought into this decision. 
Our own senior, David Lonergan, talked to us about his future plans. He is already committed to Wagner College to play division 1 football. Congratulations David! David says he decided on this school because "I am going to do business or sports management. I love the campus and I will be playing football there." David knows this is a huge transition, but he isn't scared. He says he feels, "prepared to become a collegiate athlete and a student." This will definitely be hard to balance and take some time to adjust to, but he is certain he will figure it out and have a steady schedule. 
On Instagram, there is an IHS future plans page. Students have been posting their plans for the future. Some include: Claire O'Flynn committed to Dartmouth, Seamus Gallagher committed to Tufts, Hunter Henderson committed to Mass Art, Maddie Duffy committed to Boston University and many more! We are so proud of everyone for their hard work no matter what their future looks like. 
Teachers play an important role in students' futures. Many are inspired and look to teachers as role models. Our own journalism teacher, Mrs.Mcshane, is a teacher who has seen students seek assistance from her through their senior year. Mrs.Mcshane writes around 15 letters of recommendation every year. She stated, "students who feel comfortable around me come to talk about their future." As a part of the journalism curriculum, college essays are written/brainstormed. Mrs.Mcshane says she, "gets to see a different side of students through their college essay. I see the best writing by far and they are my favorite essays to read." Although this may not fit the curriculum, students often need guidance with this and many have found this unit helpful. 
The future may be uncertain and stressful, but there are many different options for high school students to choose from. Going off to a four-year university, going to a two-year community college, enrolling in a military academy, or taking a gap year are just a few options. According to the National Center for Education Statistics, "41,989 people applied to the five military academies for the Class of 2023″ Military academies have become extremely competitive because of the thousands of kids choosing that path after high school. Also from the National Center for Education Statistics they said, "However, there are only about 4,100 slots available each year. That puts the overall service academy acceptance rate at around 9.8%." That is the similar acceptance rates to ivy league schools like Dartmouth or Cornell. But this does not mean that many teens do not want to go to college. According to ED source, "87 percent, want to eventually earn a college degree and land a career" and "45 percent of students feel positive about their college and career readiness." Many kids leave college-educated and prepared for the real world. Even though at the end of high school teens can start to feel anxious about their futures, Logos school states the importance of, "Assure teens that many people don't know exactly what they want to do, career-wise, at their age and that exploring and experiencing a variety of options before graduation will help them make informed choices." By going to college fairs and doing research on the many options after high school, seniors will be able to figure out what they want to do and reduce the level of stress that comes with their last year. 
The future is extremely exciting but this can be overshadowed by doubt and stress especially for seniors. Luckily there are many options and opportunities after high school that does not always involve going to a college. We know everyone has a great and exciting future ahead o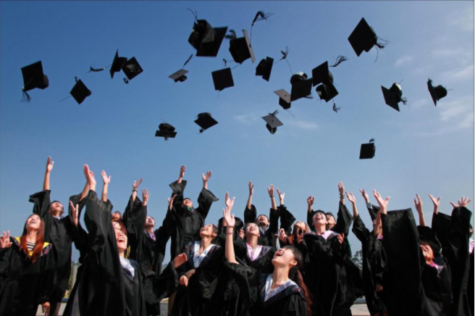 f them!