New Light to the Orchestra Program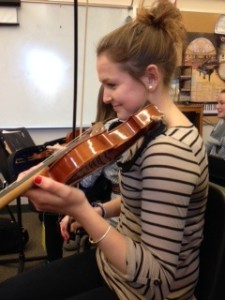 The overview of the music curriculum at Ipswich High School inquires that the essence of music education is to develop an appreciation of beauty, not simply in music, but in life itself.  At Ipswich High School this curriculum strives to develop this aesthetic sensitivity in their students using creative musical experiences as a tool.  Standard teaching techniques are used together with analytical, judicial, and creative thinking.  Through these processes, the IHS students in this curriculum discover the true nature and inner relationships of the music they perform.  They learn how to make value judgments about the different types of music they play and hear; they also learn to craft their performances and develop a sense of themselves as musicians.
The Ipswich High School orchestra program all started with Theresa Natti, in her 25-year tenure at the school.  Natti started the string program 21 years ago with an orchestra made up of 4 people. The orchestra has grown tremendously since.  Natti nurtured many young musicians to reach their personal best.  "Theresa was a flautist by training and took up the violin later on. She built an entire orchestra program from a dream 18 years ago with four students in fourth grade at the elementary schools. The orchestra program she directed at Ipswich High School rivals any good program on the North Shore," said Gerald Dolan, fine arts director at the High School.  In honor of Natti for her many years of teaching, the Ipswich Art and Drama Association and two families donated a sculpture of a violin wrapped in bronze ivy leaves to represent how Natti helped students grow through music.  Following in Natti's footsteps is Jessica Billings-White who joined the Ipswich Public Schools at the beginning of the 2010-2011 school year.  Natti had an influence on her hire. She thought Billings-White would do a good job with the program and it would grow under her direction.
Jessica Billings-White has made a huge impact on the orchestra program within the past few years.  She is young and brings enthusiasm and energy to each rehearsal followed by her knowledge of the best way to play a certain piece.  It is clear in the way she conducts and interacts with her students that she truly cares about them and truly cares about the program.  Each rehearsal she works hard with her students to make sure the timing, the dynamics etc. are on point so that each piece will be performed close to perfect.  When interviewing a senior, Ashley Sulkin, who is currently in the orchestra program, I asked her what she thought of the program now after Mrs. Natti left.  She said, "Mrs. Billings-White is a huge benefit to this program because she is young and she is a reliable source for the modern-day music".  Being in this program myself, I noticed that the energy in rehearsals really picked up.  Mrs. Billings-White uses force when she conducts us. Her conducting is powerful; what she instructs us to do with her movements is what you respond to on your instrument.  For example, if she throws her hands out with great force and leans into it, you automatically bring volume to your sound and open it up.  I have especially noticed the dynamic change in the pieces we do with Mrs. Billings-White.
Recently, over the past few concerts, my mother has said things to me such as, "Wow, have you guys always sounded that amazing?  Really, Han that was unbelievable."  Every concert that my mom, my grandparents, my aunt and uncle go to they have all truly praised this program and believe that it has improved tremendously over the past few years.  The new energy Billings-White brings to the program has certainly made a powerful impact that has allowed this program to grow as a unit.
Leave a Comment