The Topical Tigers
It's a new year, a new season, and a new offense for the Boy's Varsity Basketball team of Ipswich High.  This is a big year for the Tigers as they look to redeem themselves from last season's 3-17 record.
"I think the problem last year was we relied on one player too much. Even though he was the best player on our team. We'll rely on each other now and not just him, thus allowing us to be more successful," said three-year varsity team member and two-year team Captain Matt Jaeger.
Erik Fyrer is just one of four key players not returning this year.  Erik along with Luke Sprouse decided to attend different schools this year.  Erik is repeating his junior year at Pingree School, and Luke Sprouse transferred to Hamilton-Wenham Regional High School to finish his high school career.  Other players that have left the team include last year's starting small forward, Nate Glaster, who decided to do indoor track this year, and Mike Savoie who joined the swim team after making the varsity basketball team as a sophomore last year.
With all of the lost talent one might think this team is in for another 3-17 season, but Quinn O'Connor thinks otherwise.  "The team looks pretty good so far.  There's a bunch of athleticism on the court.  We aren't the tallest team in the league but we have a ton of quick, young talent, which we can use to dominate other teams along with our athleticism and speed," said the 6'4" senior, power forward.
Another change this year is the play style.  This season, Coach LaRoche is implementing a new offense called the "Read and React" offense.  It's based on spacing and constant motion.  According to coachesclipboard.com it is "similar to but different from motion offenses. In R&R, the player with the ball ("initiator") has  the option to do multiple things. The other four players ("reactors") read and react to what the "initiator" does, and there is only one correct off-ball movement."
The players seem to trust this offense and LaRoche, whose performance and record in the last few years hasn't affected his standing with the players.  They still believe in him and respect him as their head coach.  When asked what it's like playing for Alan LaRoche, Captain Matt Jaeger told me "having him as a coach is just a blast; I love it.  He's just the best coach I've ever had.  I love his style and even though his record may not show it, I think he's a winning coach."
In addition to the new offense, the team is taking on a new identity too by changing this season's theme.  Last year was all about effort and determination, as seen on the back of their shooting shirts, which read "HUSTLE AND HEART SET US APART".  However this season, they are focusing on fearlessness.  For their shooting shirts this year the players chose the slogan "Respect All, Fear None" to be displayed on their backs.
Lastly, with ex-varsity assistant coach, Sean Fitzgerald, taking over as the junior varsity head coach, Dan Follensbee will be filling the void at the assistant coaching position for the varsity team.  Dan has been the long-time girl's varsity assistant coach.  Dan brings a lot of knowledge, wisdom, and experience to the boy's team.  Last year, Dan helped coach the Lady Tigers to a 20-4 record, and he hopes to do the same if not better this year.
The Tigers are looking to start this 20-game regular season with a win against the Indians of Amesbury on Friday night (12.13.13) away at Amesbury.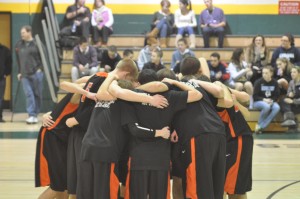 Leave a Comment