Dance the Night Away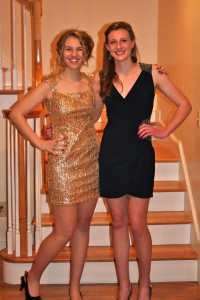 It's that time of year again… time to go buy a beautiful dress and some charming shoes… it's Cotillion! Members of both the junior and senior class at Ipswich High School will be heading to the Ipswich Country Club on Saturday, February 6th from 7 PM until 11 PM to have a night full of food, friends, and dancing. Tickets will be $35 per person. Although many seniors have been to Cotillion before, it's still just as fun as the first time. Juniors are looking forward to attending to their first one. Junior, JoAnna Perry is especially excited for Cotillion. When I asked her what her favorite part about the night is she told me, "I love getting all dressed up and getting to be with my friends."
Even though Cotillion is only a four-hour, one night event, there is still a lot of planning that goes into it. According to senior class vice-president, Britta Galanis, planning starts much earlier than most people think. "We had a meeting right after Cotillion last year to discuss what we liked and didn't like and what we can do to make it better. We really value the classes' feedback on what they liked and didn't like so we can make it better for next year." Luckily for the officers, Cotillion is one event that isn't all that stressful for them to plan. "There is a pretty good outline of what has been done in the past so it's just a matter of actually taking the time to set it all up. I think the most stressful part is trying to get people excited for it and producing a large turnout from our grade," said Britta.
Not only does planning the event take place months before the event, but often planning your outfit takes just as long. Finding the perfect dress and the perfect shoes can be harder than it seems. Many girls start looking months in advance to find the perfect dress. Unlike prom where the dress usually has to be altered, Cotillion is a short dress occasion so shopping can be done just two weeks beforehand, if that doesn't stress you out too much. "Picking out my dress is my favorite part of going to school dances," said JoAnna Perry.
For the past few years, Cotillion has been held at the Ipswich Country Club. When asked why this venue was chosen, senior class advisor Kathy Spinale said, "In this area, there aren't a lot of venues that can accommodate 200 to 300 students attending a Cotillion. Also a few other venues that we did look at even as far back as September were already booked for weddings and other events." The Country Club staff usually handle set up and clean-up which is a nice change from Freshman/Sophomore Semi-Formal where members of the class were asked to stay after to help clean up. Another positive aspect of the Country Club is that they have a full kitchen which allows them to cater the event themselves. "Because the club was closed for renovations last year, the menu was somewhat lacking. We hope this year's menu will prove to be more palatable, and will also accommodate anyone with a food allergy or sensitivity," said Kathy Spinale when asked about the food for the event.
Just like most dances, Cotillion does have a theme. "This year's theme is 'Masquerade.' Since masks cannot be worn to school dances, we are incorporating the theme into the centerpieces," said Britta Galanis. She is also trying to get masks for each place setting. If you've ever dreamed of attending a Masquerade Ball like in the movies, this is your chance. Come to Cotillion 2014!
Leave a Comment