Once Again Vandal Strikes the Boys' Bathroom
As you enter Ipswich High School, you observe respectful and responsible high school students walking the halls. The majority of these students are here to be educated along with learning to respect their peers and elders. However, recently there have been a few mishaps where some students don't seem to be following our mission here at the high school. (Ipswich High School is a community of collaborative learners motivated to acquire the skills and knowledge essential to become successful and responsible citizens.
In the past month, there have been two incidents where one or two boys have completely destroyed the partition that separates the toilets in both of the upstairs boys' bathrooms. As a school, the student body has been good about graffiti. The Vice Principal, Mr. Carovillano, doesn't really know where this sudden outburst came from. "I don't know what motivates kids to do this. I think this person was just really angry or just doesn't respect our school, but it is only one or two kids ruining it for everybody". This doesn't give anyone a reason to vandalize the school and students really need to understand our high school is a great place compared to many others. We need to learn to respect it.
There aren't many things that the faculty or supervisors can do about things like this since it is a private place, and it is impossible to monitor all of the time. As for the future, the boys' bathroom will be closely watched and sturdier parts are being installed into the boys' bathroom in the next few weeks. The cost of this replacement for parts has not been defined yet, but they are trying to figure the final numbers out within the next day or so. According to Mr. C, this damage "just hurts everybody" due to the fact that this money is being taken from the budget of buying new computers and other important things that need to be purchased and funded.
By locking the bathrooms, it gives time for the contractors to come in as soon as possible to start the repair of the damage done but it is not in any way discipline for the male population. "It's not locked for any type of penalty or discipline. I don't want the boys to think that. I understand the vast majority of students here respect the school, and I don't like to penalize everybody, but it is the only way to get the parts replaced," Mr. Carovillano stated when approached about the events that occurred during the past couple of weeks. Hopefully this will be the last outburst of the year, as we only have one semester left and a few more months to go. Leadership needs to be present in the junior and senior class as the year winds down to prevent such vandalism from happening again.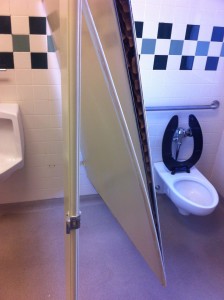 Leave a Comment