A Brave Return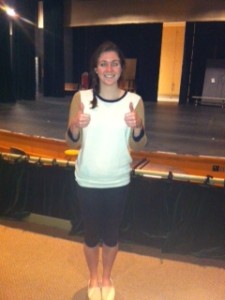 The 2013 Boston Marathon was a disastrous and emotional event for not only the people involved, but for the state and even the nation in some cases. Many people were injured, and three innocent individuals died because of the bombings that occurred. Due to the tragedy, the lives of those involved have been very different. Whether they are missing loved ones, missing limbs, or dealing with the emotional aspect of it all. Coming back to the Boston Marathon this year could be hard for some people, but not for Dave Fortier.
Dave Fortier, a victim of the bombings last spring, has suffered from hearing loss and shrapnel injuries since the event. Dave didn't think he had crossed the line, since he was only feet away when the bombs went off, but found out when he got to the hospital that he had completed the marathon. Though these weren't the worst injuries of the incident, it could still prevent someone from not participating in the Marathon again this year. Dave is coming back stronger than ever this year, running with Dana Farber Marathon Challenge team again. He has recruited many people that suffered from injuries this past year from the bombings to run together in the 2014 Boston Marathon. This perseverance should be looked at by others who need a confidence booster, or need something to compare their life to. When times get tough, you can either give up, or keep on pushing, and that's exactly what Dave and many other victims are doing.
The parents of the eight-year old boy who lost his life in the bombings at last year's Marathon, have also created a charitable foundation and have been taking applications for runners who would want to run to raise money for the charity. They received more than two-hundred and fifty applications from thirty-five different states and several other countries, many of them being pages long. The mother of the child claimed that a lot of the applications were very emotional and heartfelt, and it was good to see that there were some kind-hearted people in this world.
Senior, Phoebe Howe is running in this year's marathon for the Kpelezo Community School Group some of her friends and her founded two years ago. She claims, "I am not nervous about the race this year because the BAA has taken many precautions. They've instituted a gear check for runners and there are a lot of things bystanders can't bring, such as large signs that would hide people from cameras." Phoebe was also asked if she would return to the Marathon even if she was a victim of last year's bombing, and the response was quite encouraging, "I would definitely return. Bostonians are strong and it is good to show the world, as well as yourself, that you can rise up and thrive despite being knocked down." Phoebe's encouragement is an example of an attitude that more people need to have in order to live their life to the fullest.
While all of this marathon talk is going on as people are preparing for the upcoming race, there has been action in the courts as prosecutors are trying to prevent main suspect, Dzhokhar Tsarnaev, from seeing the pictures of autopsies of the individuals who were killed in the tragic event. Tsarnaev's lawyers are claiming that it will help their case but prosecutors are worried it might "revictimize" the families by revisiting the pictures. There are many different opinions on whether or not he should be able to see them, "He should see them so he knows who he hurt, and so he has a face he can think about and be haunted by while he rots in jail," senior Samantha Cohen reported. Clearly it is a very sensitive topic for some people who weren't even involved in the bombings, so just imagine the thoughts going through victims' minds or the families of the people killed last spring. Jim Cohen also expressed his opinion, "Sometimes I feel that death is not an adequate punishment for the crime done. This is an example of such a crime and I think that living the rest of his life in prison is a more appropriate punishment." Even a year later, all the facts are still not cleared up and opinions are definitely not quiet.
Most people would back away from the challenge and the difficulty of going back to the place where they were hurt or where such a bad event took place, but it is good to know that there are people out there willing to take the risk again and overcome their troubles. More people need to be willing to take risks and get back up when they fall down, or they aren't going to be able to live a very successful life. I think this event is a perfect example of how to do so.
Leave a Comment