Sneakers, Shorts and Sunburns!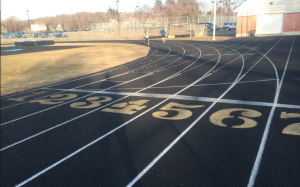 Spring has officially arrived and you know what that means? Time to pull out sunscreen, shorts, cleats, and sneakers. Spring sports have officially arrived and are beginning early this month. With nearly 300 participants with winter and fall averaging 250, this time of year tends to be the busiest for the IHS sports department. Part of what makes spring season so busy is the fact that IHS offers a total of eight sports, the most offered during a season. Many kids love this time of year due to the nice weather and the long awaited summer time that follows spring sports.
One of the most popular spring sports is lacrosse. Both boys and girls can participate in lacrosse and the teams are organized by skill level into Varsity or Junior Varsity teams. They usually practice at the fields on Mile Lane with pinnie tans and goggle imprints on their faces. The Girls Varsity lacrosse team has made the tournament for over four years now. Captains for this year's season are Olivia Moutevelis and Claire Gardner. The girls are eagerly waiting for their first game to start and are practicing hard. Junior, Hannah Quinn, who has been committed to lacrosse for 8 years, says that she absolutely loves lacrosse and that her favorite part of it is "the competition during games". Quinn describes some of her challenges going into lacrosse such as her knee problems. "My knee injury was probably one of my biggest struggles that I have had to overcome while playing lacrosse.  I have gone to PT for a long time now but I still have never given up lacrosse," Quinn states.  One big question parents and other students have is whether there are complications balancing a spring sport with their schoolwork load and their social life. Quinn remarks, "Playing lacrosse is pretty manageable. The only time when it actually becomes a struggle is when I have tests I have to study for or when I have huge essays. Besides that, it really isn't that bad." Boys Lacrosse has also been consistent with its players and record. This years Varsity Lacrosse Captains are Connor McAdams, Jeff Statile, and Jamie Iwinicki.  They also are in the middle of practicing and getting ready for their upcoming season.
Another spring sport that is very popular is Ipswich Girls and Boys Outdoor Track and Field. Mr. Marty Binette, along with Mr. Carey, is the coach for the Boys and Girls Outdoor Track and Field this year. IHS Track and Field is located at Ipswich High on its very own turf track right next to the school. The team has been CALs champions for the past three years and has qualified for CALs almost every year. Libby Manos, a senior at Ipswich High, says, "My favorite thing about spring sports has to be the great weather we get. I love being outside in the warm sun, and I really enjoy being outside in general. I never get tired of it." Manos has always done track and field for her entire high school career and has been extremely involved in the shot put and discus program. When asked about why she chose shot put and discus she responds, "Shot put and Discus are really good strengthening and conditioning related events. I love it because it gives me an overall great workout and it helps me prepare for summertime, which is right around the corner. My favorite part has to be actually competing and the core workouts we do, they are a killer."
Along with lacrosse and track and field, IHS offers Boys and Girls Tennis. Tennis has evolved over the years and has become a very intense, competitive sport. Captains for the Girls Varsity Team include seniors Ashley Sulkin, Lexi Lopez, and Hannah Lynch. Both of the tennis teams can be seen early in the season on the courts by the school with shovels, shoveling snow off the courts to get it prepped for the season. It has been more difficult for the team this year due to all the snow we have gotten this past winter. Hannah Lynch, a senior captain, described the responsibilities and challenges of being a captain. "First off, my responsibility as a captain starts even before the season starts to arrive. Lexi, Ashley and I have to get the word out as best we can and start recruiting upcoming middle schoolers. We schedule meetings in the fall to prepare for the season. During the season, we have the responsibility to be a leader. We focus on helping teammates grow as tennis players.  Probably one of the most frustrating things is during the first few weeks when there is snow covering the courts. It's difficult in the beginning because we can't put the nets up yet and our first match is only a week away."
There is also Baseball and Softball offered by the Athletic Department as an option for spring sports. Libby, Hannah and Hannah dished out good information involving how they feel about spring sports and what are some of the challenges that come with them. Mr. Gallagher, the athletic director, was asked what the most rewarding part and the most challenging part of his job is. He responds, "Well right off the bat, the most rewarding thing is just being a part of this awesome program. I love watching the coaches and teams succeed and have fun out there!" Several minutes go by before Gallagher says, "Mmm probably the most challenging part is the time commitment it takes. Being the athletic director is definitely tiring and has long work hours taking time to set up things. I work around 60-70 hours a week. " Without Mr. Gallagher, the sports at IHS probably wouldn't be as fantastic as it is.  It is a very exciting time for students!
Leave a Comment