Keying in to Success-Zoe Gillette
The underlying  attention to detail is what separates good work from the best. Zoe Gillette, a Senior at Ipswich High School has a raw understanding of how to convey images. Her natural talent speaks for itself, with captivating masterpieces that leave viewers speechless. Winning not one, but six awards, Zoe is striding through her senior year, being recognized regionally for her artistic achievements.
Under the MFA, The Boston Globe Scholastic Art and Writing Awards have grown to be the longest running, most prestigious award among teens. Teens in grades 7-12, can apply to 28 categories for the chance to win a scholarship and have their works published. Submissions are blindly judged by leaders in liberal and visual arts. Previous winners include famous authors such as Truman Capote, Robert Frost and Judy Blume, who also lend their expertise to judging. Last year alone students from across the nation submitted 255,000 original works to the program.
This year, her first year entering her work, Zoe won four gold keys, and two silver keys. Every gold key is sent to Boston and then entered nationally. Always humble, Zoe was surprised when she found out how successful she was. To an outside viewer, there is no surprise. Zoe's work often encompasses, irony and comedy. On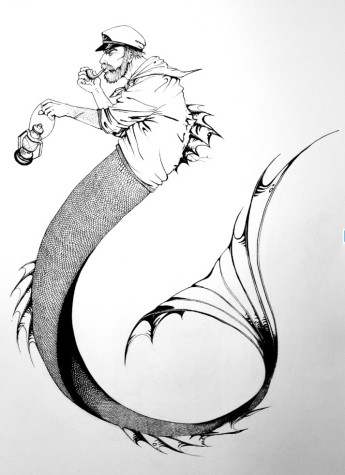 e piece in particular is her Merman drawing. This is not only her favorite piece, it was one of the gold key winning pieces. She invested a month into creating it and is detailed from the hair on the merman's arm, to the hundreds of scales on its fin. The image depicts a half old fashion sailor and half mermaid. It's ironic that she combined these two characters, because the sea man spends his life searching for this mythical creature. Except in this case its in front of his very eyes because they are one. Another piece of Zoe's that particularly stood out was a silver key drawing winner with a underwater sea diver, and an astronaut. The body language of the illustration shows they are smitten with one another, beautifully capturing how opposites attract.
As for future plans, Zoe will pursue her art career, but has yet to make a final decision on which school she will be attending in the fall. Leaning between the Rhode Island School of Design, or the School of the Art Institute of Chicago (SAIC).
On top of Zoe's accomplishments she has also donated one of her digital pieces to the Art Department. Zoe is one of many students who has grown exceptionally through the art programs offered at our school. Ipswich is an art enriched community, abounding with raw talent. The younger generations ultimately carry the future of art in their hands. It's up to us to foster students artistic talent moving forward.  Ms. Pepe, an art teacher at Ipswich High states, "…We are raising the bar and only want to sustain what we have worked so hard to promote. It is essential that we continue to enhance the visual arts programs and offer industry standard tools and methods." Looking forward, students are hopeful for our communities involvement in the process supporting the arts.