Trade School vs College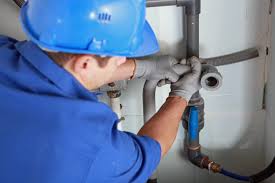 Mostly everyone who graduates high school believe that they need to go to a four year college right when they get out. Many students don't even think about going into the trades. Some students believe that you can't get a job without going to a four year college; some students just go to college because they felt pressured into it. I know some students have no idea what they want to study, and in the long run some students will just end up wasting their parents money.
The average age for plumbers in Massachusetts right now is around 50 years old, if you're young and willing to work with your hands you'll be able to get a job right away. While kids who go right into the trade will be making a good amount of money while going to night classes for the trade. But the trades keeps growing, and you'll be making money instead of being in a lot of debt. Some kids aren't cut out for the trade and they fit perfect into college. Kids in high school don't really have jobs throughout their high school career, so most kids don't really know how to save and spend their money.
I'm just going to make a strong case for an option that many students won't even pay attention to when deciding what to do after high school. Trade school can save you a lot of money. But you probably will end up making more money in the long run going to a four year college; that is only if you get the right degrees. Another advantage of a trade school is that most of the jobs you'll get are extremely difficult to export to another country. It is much easier to export computer programming work or other information economy work than it is to export carpentry, plumbing, or electrical work.
A bachelor's degree takes four years to get which means you'll be 22 years old most likely when you receive it. Another drawback for a bachelor's degree is the cost for the schooling; research shows that the average bachelors degree in the United states cost about $127,000. Also many of the students will be taking out loans to help them pay for the schooling. Loans could start from $50,000 and $100,000; by the end of the four years of college, you'll find yourself in some serious debt. The average trade school degree costs $33,000, which, compared to a $127,000 bachelor's degree, means a savings of $94,000. (According to www.dailyfinance.com.)
Right when I get out of high school I'll be getting a job for Jeff Caswell hopefully; he owns Caswell Mechanical. His company is located out of Newburyport, which has grown bigger and bigger. I will learn a lot from him; his company does A/C, Heating, and Plumbing. Hopefully when my friends are  just getting out of college I'll beginning my own plumbing and Hvac company with my dad. I need five years of working for someone before I can become a master plumber. Being a master plumber means you can hire workers. My dream is to have a Plumbing & Hvac company in New Hampshire.

Lukas is one of my best friends; he went to Whittier Tech for high school. While he was at Whittier he was taking carpentry. He's only 19 years old, and he already has his contractor's license. He works for Joset Corporation out of Ipswich.  He's one of the best workers there, and he's probably the youngest too. When I asked Lukas if he liked what he was doing he said, "I'd rather be making money doing what I love, then be in the same boring classes all day for four years." He makes a lot of money, and he's not in debt one bit. Also he said "eventually I'll be beginning my own company and hiring workers. I hope my business will be located in New Hampshire because I love it up there." This shows how the trade can turn a teenager into a man, and he'll be buying a apartment or even a house sooner than later.
Every adult I've ever talked to about the trade said "it's a great idea and I'll be making a lot of money in the long run."  Some of the parents even said, "I wish my kid would go into the trade", but their kids just don't realize the potential of any trade. My whole family has been in the heating trade; my dad and papa owned a very successful business in downtown Ipswich for over 25 years. It was called Elliott Fuel, and my papa decided to finally sell it to Townsend Oil about 7 years ago. Our old office is now Stalline Oil. I know someday my dad and I will make a new business and bring back the Elliott name.