New Teacher, New Ideas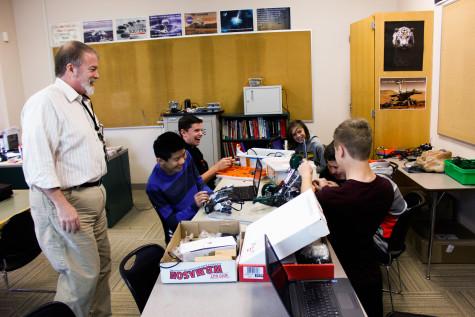 Walking into Mr. Costa's classroom is unlike walking into any other. Depending on what time of the day you visit his room, students could be doing things like building robots, legos, or they could even be programming their own apps for Android.
During school he teaches Robotics I and II, as well as computer programming. In Robotics I, students use Lego robot kits to complete a series of challenges, such as driving back and forth along a wire. During the computer programming class, students learn how to program, and then their final project is to develop their own Android app.
After school, Mr. Costa is in charge of overseeing IHS's FIRST Robotics Team. The FIRST Robotics Team receives a challenge every January and they have to build a functioning robot in six weeks to meet that challenge. Captain Alex Mootafian explained that last year, which was the team's first year, they did not have any dedicated school time. Therefore, all construction of their robot occurred on nights and weekends. This year however, they have an entire class period during third quarter to work on the robot. When asked how this was beneficial to the robotics team, Mootafian said, "I think it's exciting to be able to meet with a large share of the people on our team on a daily basis to plan and build our robot." He also mentioned that he hopes for a much better season this year due to the new class.
Even though the class does not start until third quarter, Mr. Costa has already started to help the robotics team in a big way. Earlier this school year, he suggested they make bracelets out of para cord and sell them as a fundraiser. The team made several bracelets to sell at Ipswich Illuminated and sold out in under an hour. Another fundraising idea Mr. Costa came up with was a movie night in order to raise even more money for the robotics team. So far this year he has already helped the robotics team in countless ways, and Mootafian and other members of the team are looking forward to a great year.
Mr. Costa's experience doesn't end with computers and robots though. This is his 11th year teaching, and before he worked here at IHS, he was a teacher in Brookline and Lynnfield. Prior to his teaching career he worked in the computer chip industry, in almost every department imaginable. He has held positions from physicist to engineer and sales. "I'm a lifelong learner," he says, which is why he became interested in so many careers. He believes that everyone should be a lifelong learner as well. Being a lifelong learner will allow anyone to hold any position they are interested in, just as it has for Mr. Costa. Clearly, Mr. Costa brings a wealth of experience and knowledge to IHS, and he will be beneficial to helping our Engineering/Technology Department grow and prosper.