Winthrop Desperate for Change
Patrick Meaney & Miranda Arvilla-Rice
January 21, 2016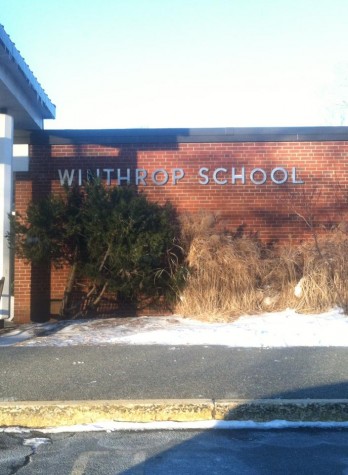 NEED
Built in 1956, Winthrop was originally intended to house 350 kids. The Winthrop School is currently crammed with nearly 500 students. Capacities are outdated and cannot meet the demand of today's technologies. The heating system is unreliable and some students and teachers wear their coats in class. Many High School students attended Winthrop and probably agree with the need for change.  High School students probably agree with the need for change.
Mrs. McAdams, the current Winthrop School Principal, was interviewed on Thursday, January 7, 2016.  When asked what challenges she felt the old school had, she answered, "The way students learn and the materials they expect to use are constantly changing.  Similarly, the way teachers teach and the tools they use are different.  Generally, old buildings are not very flexible or accommodating with regard to these changes. For example, let's take the way that students often work in ever-changing groups.  Finding locations for groups to work throughout the day, and using technology, can be challenging in old, inflexible spaces.  In many cases, some of the spaces that are used today were not designed for their current use. Closets are not testing spaces. Storage locations may be meeting rooms."
The Winthrop Elementary School at 65 Central Street is 60 years old.  The building has served it purpose over the years but a change is needed.  21st Century students require more in their learning environments.  Mrs. McAdams was asked, what are the challenges students face when learning in an old building?  The principal responded, "One of the greatest problems with old buildings is their inaccessibility, particularly for students with physical disabilities.  Old buildings were not required to have wheelchair ramps or door frames wide enough for other physical assistance.  How is it possible for all students to feel welcome when they cannot navigate the building?"  
An article from P21, Partnership for 21st Century Learning states that environments should create learning practices, human support and physical environments that will support the teaching and learning of 21st century skill outcomes.
This would include:
Support professional learning communities that enable educators to collaborate, share best practices and integrate 21st century skills into classroom practice

Enable students to learn in relevant, real world 21st century contexts (e.g., through project-based or other applied work)

Allow equitable access to quality learning tools, technologies and resources

Provide 21st century architectural and interior designs for group, team and individual learning.

Support expanded community and international involvement in learning, both face-to-face and online
PLAN
In November of 2015, the Ipswich School Committee  begun the selection of architects for the new elementary school project.  The project was proposed by Mr. Kevin Murphy, who is on the School Building Committee. The Board choose Design Partnership of Cambridge as the firm to develop the project. The members of the board are Town Manager Robin Crosbie, School Committee member Barry Hopping and School Superintendent Bill Hart.
The architectural firm, Design Partnership, will conduct a study and focus on four construction options:
Building one, new elementary school for all Ipswich students

Turning the Winthrop and the Doyon schools into grade-specific schools, one for grades K-2, and the other for grades 3-5

Building a new Winthrop school, for a larger student population

Renovating the existing Winthrop, moving some functions at Doyon to Winthrop and creating more space at Doyon.
Mrs. McAdams outlook on the plan is, "As for what proposal I think would be better, the whole point of the feasibility study is to show us the pros/cons of each of the options and, hopefully, make it quite easy to see the best alternative for the town."
MONEY AND TIME
If the state agency approves the project, which could cost as much as $40 million, it will pay at least 45 % back to the town of Ipswich.  If all goes well, projections call for the doors of the renewed Winthrop, with any plan that is chosen, to open in September 2019.
In response to the proposal, Mrs. McAdams was asked if she was  hesitant about. She answered, "The timelines required by the state building process are quite rigorous.  The building project includes many complicated issues such as site, configuration and whether or not other programs (like preschool programs and Central Office space) should be included in the building.  I'm anxious about how we will make sure that all community voices are heard in the process in what feels like a short period of time."
RESULTS
A change is coming for the Winthrop School and the Ipswich community.  What will it be?  Only time and money will decide what will happen.  What would you chose?
REFERENCES
http://www.p21.org/our-work/p21-framework
http://ipswich.wickedlocal.com/
http://www.edlinesites.net/pages/Winthrop
http://www.ipswichsbc.org/feasibility-study-and-financing.html
http://www.milkeneducatorawards.org/educators/view/sheila-smith-mcadams