Our Thoughts On The Tots
The Tiger Tots is a program that has been going on in Ipswich for many years  and is very beneficial towards the Ipswich High School in many different ways. The Tiger Tot's organization was made up to serve as a daycare for teachers with kids right within their workplace. Also, the Tiger Tot's staff is made up of High School students who can participate as a class and help teachers with the kids. Tiger Tots is made up of kids from the ages 1-5 who stay in a room towards the back of the school next to the lunch room. In the article, teachers and students were interviewed about what they think of the program because it is interesting to find out all the different ways the program benefits our school.
Many have said the biggest advantage of having Tiger Tots in the High school is that teachers can interact with their children at school. So after hearing this, I decided to interview a student favorite Mrs.McShane on her thoughts about the program, since she has two of her own kids attending. She gave me some good and interesting answers. I first asked for her opinion on the biggest advantage of having Tiger Tots. Mrs. McShane replied, "The biggest advantage is having a day care that works with my hours.  In addition, I get to work with their teachers, which forms a nice bond. It is also fantastic being able to see and check-in on your kids while at work." You'd have to imagine parents find it extremely helpful to be able to take care of their kids if they aren't feeling well, especially when they're right down the hall. I also asked Mrs. McShane what she would do if Tiger Tots was not available at the High School. She answered with, "I have no clue; I would have to look for an alternative and I guess that would be more difficult." Mrs. McShane is one of many teachers that have their children in Tiger Tots, so to be able to hear her insight of the program is very valuable to us. It provides us an overall understanding of how beneficial the program actually is.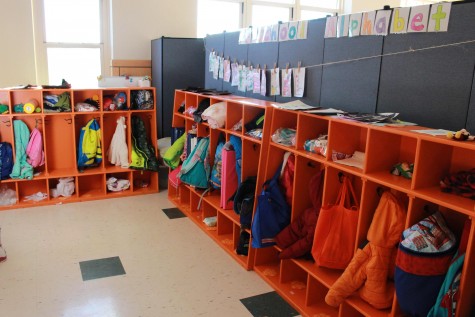 My next interviewee was Josh Brown, who is a student at the Ipswich High school. Josh has now done two terms working with Tiger Tots (one with myself), and is well liked by the kids. I started off with a basic question, What is your favorite thing about Tiger Tots? Josh gave me a short but sweet answer saying, "Just having fun playing with kids, and the positivity they bring into my day." I would have to agree with him, the kid's personalities have a way of rubbing off laughter and positivity. I also decided to ask Josh what he personally thought was the toughest thing about being in Tiger Tots. He told me a similar answer as the first one stating, "Whenever a kid has a bad day it can affect the group as a whole and throw off the whole vibe of the day." I would also agree with this. Kids can have bad day unexpectedly, so you definitely will experience both extremes of good and bad. There is without a doubt more positives opposed to negatives when being a part of Tiger Tots.
My last interviewee was a teacher from Tiger Tots, Mrs. Sirois. My first question changed the focus from the school towards more about the kids, asking what is the biggest advantage for the kids in Tiger Tots? She answered with, "I think the biggest advantage is by far the children being in the same building as their parents and being able to know their safe with parents close by. I also believe they have a good amount of freedom." I would agree with their amount of freedom as the kids get open gym time twice almost everyday. I wasn't surprised to hear this.  My next question was about working with the students at IHS. I wanted to know if it was difficult to work with the students, especially considering that we are only young adults. Mrs. Sirois says, "In the beginning it is easy to tell if a student is apprehensive or shy with the children because they are very hesitant, but over time they soon get more and more comfortable." This is very understandable because not every student in the school knows how to handle/ deal with very young kids. Although after spending your first days with them, just like Mrs. Sirois said, you do soon became very comfortable and look forward to being with them.
The Tiger Tots program at the Ipswich High School is overall one of the most beneficial programs you could be apart of at IHS. Not only does the program help teachers, but it provides students to be able to build up skills with working with kids. This is not a class where you could sit down and just write a paper about working with kids. It is a class where you physically have to be hands on with the children and learn as you go, and that is the most exciting part. Yes you will learn from mistakes that you will make, but that is what life is, and that is why this class is very important to everyone at IHS.