Unstoppable: Ipswich Girls Indoor Track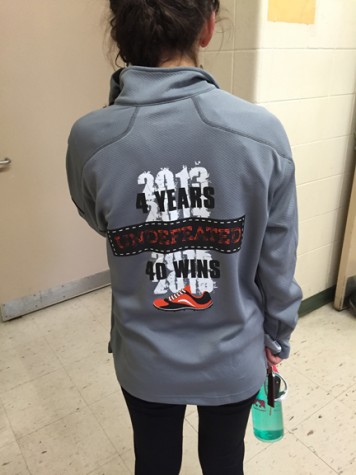 Ipswich High School indoor track has been able to keep an undefeated record for 4 years in a row. That means that 40 games have been won without a single loss! With that being said, one of the main questions about the indoor track team is, will the girls be able to keep their strong winning record with the top runners in the district leaving for college next year?
Mr. Bennett says with a lot of hope, "I think the undefeated record is an awesome accomplishment, and I think it is going to be difficult to maintain because we are losing some really good athletes, but as long as we continue to have a lot of kids come out for indoor track, we always have a shot." The girls have worked so hard to be able to keep their status as a hard working, dedicated team. Because of the dedication that they have showed, Mr. Bennett believes they have the ability to make the upcoming runners into great athletes.
Top 300 meter and 4 by 400 meter runner Michaela Hedderman believes that there are people who will be able to step up as both runners and leaders to make a difference in the loss of great sprinters. She has a good feeling that the undefeated record is very possible to maintain if, "everyone trains hard enough and has a good mentality and attitude about it." During the track meets, Michaela was able to win every 300 meter race getting the girls many points for every meet. Another event she took part in that brought home many points for the first place wins during every meet was the 4 by 400 meter relay with Chloe Lindahl, Amanda Recupero, and Zoe Doran.
Another major loss that is going to have a huge impact in the team's outcome next year is Emily Demarco. With breaking 3 school records, Emily was able to get first place points for the 1800 meter, 1 mile, and 2 mile. Her ability to sprint during her distance runs made the girls track team grateful to have her on their team. Emily would never disappoint anyone because she was always able to win by seconds and minutes against her opponents. Looking at the girls 4 year record, Emily's absence will definitely be hard to make up for.
After talking to Junior Amanda Recupero about the next best 300 meter runner for Ipswich, she was asked if the loss of the top runners was going to make a huge difference and she immediately answer "Yes," without hesitation but continued to say it will be possible but, "It will definitely be hard."
Ipswich High School girls indoor track will have to wait until next winter to see what the new season brings. The effort as a team and individuals will show if they will be capable of keeping the 4 year undefeated record. Mr. Bennett is confident that he can get his new upcoming and underclass man players to step up and make a difference in the big change of the top runners leaving. Even with the unknown outcome for next year's indoor track season, Mr. Bennett says, "I'm excited for next year because I think we have the opportunity for a lot of kids to step up and fill the big shoes that are going to be left by a really good senior class."