Discovery, Freedom, and Independence
Recently, a group of eight classmates completed a six day program and tour of our Nation's Capital with an organization called Close Up, Washington, D.C..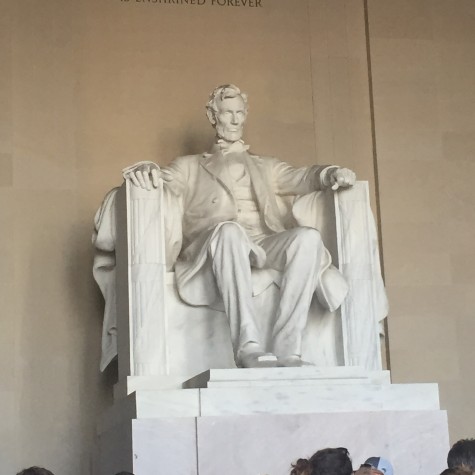 Mr. Krieger, American Government teacher, led the group of five seniors and three juniors on an amazing tour of the Capital. John Ross, Vince Skelton, Chloe Rodgers, Jordan Hoey, Rachel Jaeger, Nick Pappas, Lia Moylan, and Maddi Pitcairn attended the trip and raved about the experience. Maddi Pitcairn stated, "It was very informative, and I learned about a lot of stuff. It was a great experience and I highly recommend it for future students."
A highlight of the trip included a visit to the Lincoln Memorial. This statue of Abraham Lincoln is awesome in its size and scale. The inscription read, "In this temple as in the hearts of the people for whom he saved the Union, the memory of Abraham Lincoln is enshrined forever." It is easy to see why many people consider him the greatest President in American history. President Lincoln was a powerful and influential leader in abolishing slavery; reminding the country that "our nation is dedicated to the proposition that all men are created equal." When you are near the statue, you feel like he could come to life, stand up, and give a speech on the need for freedom and equality for all. The statue stands 60 feet high and is surrounded by 36 massive columns representing the 36 states in the Union at the time of Lincoln's death. Jordan Hoey stated, "My favorite monument was the Lincoln Memorial, because it was the most complex and beautiful memorial. I also love how it faces the Washington Monument."
Other highlights of the trip included the walking tour of the Tomb of the Unknown Solider and The Vietnam Veterans Memorial. At the Vietnam Veterans memorial, a few of the students were deeply moved by a Vietnam Vet who was searching the wall for a platoon friend who was killed in action. We can only imagine how guilty he must feel for surviving when his friend was tragically killed in combat. The wall lists the names of 58,000 fallen soldiers and stretches longer than a football field and the highest point is 10 feet tall. As you walk for nearly 300 feet, it is hard to comprehend this massive loss of young soldiers. Trust me. Walking along this memorial and watching people look for the names of dead friends and family members will bring you to tears.
On our last day in Washington D.C., we made the journey to Arlington National Cemetery in Virginia. Here, we discovered the Tomb Of the Unknown Solider and watched the Changing of the Guard ceremony. The entire Close Up group stood in complete silence as the guard marched 21 steps before turning in front of the tomb and waiting for 21 seconds, then turning again and changing his weapon to his outside shoulder and waiting again for another 21 seconds. This solemn and profound ritual repeats for one hour until he is relieved of duty at the Changing of the Guard. We learned this routine continues every hour, on the hour, seven days a week, 365 days a year. This ceremony is dedicated to American servicemen who died without their remains ever being identified. This is a way to remember those who died protecting our country and never making it home. Vince Skelton said the ceremony "made me realize how lucky I was to live in a country that gives me so much freedom, because most counties don't have what we have." Our tour guide, Biia, told us they started this historic routine to watch over the empty graves of the lost soldiers and to make sure no one ever vandalizes the tomb.
The trip was a wonderful and educational experience, but more importantly it was a great opportunity to bond with your classmates. In addition, it was a great way to gain some independence traveling without your family. The trip also allowed us to meet other high school students from New York and Mississippi. In fact, we roomed with students from other parts of the country and gained new perspectives on their viewpoints and opinions about our government and political system. Some were liberal and freethinkers, and others were conservative and wanted "less government." Our small group meetings and workshops allowed us to learn from our peers. This is not the typical family trip with your mom and dad, this is a once and a lifetime trip with your high school friends. This is your chance to stand on your own, find your independence, open your mind, and discover one of the greatest cities in America. Going on this trip with Mr. Krieger, a teacher whose passion is teaching history and American Government, made this experience all the more interesting and exciting.
This trip is only available to juniors and seniors. The total cost of the trip is $1,000, but you do and learn so much that it is totally worth it. For more information on the trip, contact Mr. Krieger at [email protected].