Facing America: The Italian Style
Leavi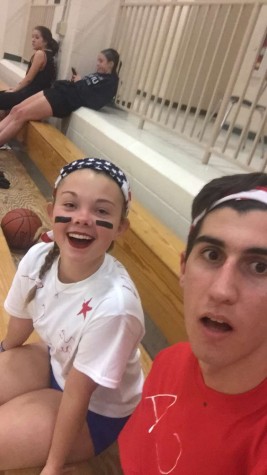 ng your home, a place you've been use to your whole life, to come to a place you've never been to is scary. Packing your bags, and starting a new life, with no expectations of what's next is frightening. I can't imagine, one day waking up, getting on an airplane and saying goodbye to my family for a whole year.
A student at Ipswich High School experienced a whole new life starting in August of last year. Gabrielle Aprea, a senior, made his way to America from Italy to experience a once in a lifetime opportunity. When asked what he was most afraid of when coming here he said, "I was most scared about living alone without my family and friends for a whole year." It's crazy to think that someone can simply just leave everything behind that he has spent his whole life building to experience the unknown. It takes a strong person to be able to leave their homes for such a long period of time. But when asked what he was most excited to experience, he said, "I was really excited for soccer season and to live in America for a year because it was my dream since I was seven." Gabrielle made his dream come.
Despite the worries that Gabrielle felt before coming here and the sadness he had to overcome when getting here, coming to America has been an amazing journey for Gabrielle. When asked what his most memorable experience was, he said it was "New York City because it was fun and it's the best city I have seen so far." As an exchange student, Gabrielle has got to travel to many new places, such as New York City, and Washington D.C.. He is really getting the whole American experience. Gabrielle is getting the chance to not only live in a small town, but see some of the most historic sites in America. He went to the Statue of Liberty, the Empire State Building, the Lincoln Memorial, and many more sites that are known all over the world. He is very lucky to have the chance to go home and share all of these stories with his family and friends who haven't experienced what he has.
Although Gabrielle has enjoyed his time here, there are a few things that he doesn't like and sure won't miss when he goes back home. When asked what he disliked about America he said, "I hate the weather here, that that people refer to restaurants as Italian restaurants, that my island isn't on the map in this country, how loud people are in this country, and hairdressers because they don't understand Italian hair here." Living here my whole life, these seem like such small things to hate because I have become so used to them. It's interesting that these are the choices he gave me when asked what he disliked, because they seem so minimal to those who have lived here for several years.
After a conversation regarding his experiences here, it was time to talk about going home. When asked what lessons Gabrielle would be taking back to Italy with him, he said " speaking  English; it took me about three years to get it, doing my own laundry, ironing my clothes because momma used to do that for me, and making my bed." This also surprised me; Such simple tasks could be the most strongest lessons someone learns in an unfamiliar environment. I then wanted to know what Gabrielle would miss the most about America. Most students would be surprised by his answer. When asked this question he responded with, "I'm going to miss high school; I love high school here." Not many people look forward to school, and for him to love it here was amazing. Gabrielle has completely loved the time he spent here so much that he actually told me, "I want to come back here; I am applying to college here."
A student packs his bags and says goodbye, not knowing what he will experience here. But, during the months he's been here he's made so many memories to take back home. Before he came, he was so scared to live here for a year without his family, and now he is sad to be leaving. He's happy to be coming back here in a couple years to make America his home for a few more years in college.