Kicking Grass with Applications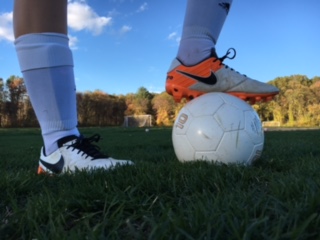 Stepping out onto the field under the lights, everyone cheering you and your teammates on, your adrenaline is pumping, and all of your worries are put aside for two forty minute halves. The whistle blows and the clock starts. — A feeling that most athletes know and love.
The process of applying to colleges is very stressful and different for each individual student. Some students know exactly where they want to go and what they want to do, while others don't have a clue about the process. Students who are planning on playing a sport in college have a little different process to go through, choosing the right school academically speaking, deciding which division you want to play in, and talking to recruiters and coaches. We had the chance to talk to a few IHS students about their process.
Max Benford
Max Benford, a senior at Ipswich High School, has always loved soccer. Max was born in Hungary and moved to Ipswich, Massachusetts in the fourth grade. Max's love for the game began in Hungary as a young boy. He realized that playing in college was an option in the 8th grade as high school approached and his coaches were prepared to help him through the process. Max knew that he had to keep his grades up and play his hardest to make playing soccer in college a realistic goal. He said, "It took a lot of hard work on and off the field, making sure I got good enough grades and was playing at the highest level of play I could." He has played club soccer with Aztec Soccer for many years and his coach was very helpful with the process. His top schools were Holy Cross, Roger Williams University, Connecticut College, and Tufts University. Max said, "My club coach first put Holy Cross into my view and he was good friends with the head coach there so he was a big help. My parents both liked it, so they encouraged it too."  In July of 2016 he got a call from the Holy Cross head coach, Marco Koolman. They had a long conversation and the coach ended up asking if Max would be ready to commit to the Holy Cross team. Max sat down with his parents and had a long talk about the decision. The next morning, Max verbally committed to play men's soccer at Holy Cross. Just like that, Max's dream of playing a college sport was becoming his reality.
Jocelyn Long
When Jocelyn Long started playing soccer twelve years ago up until seventh grade, playing in college wasn't really something that she thought about. She picked up club soccer with NSU in seventh grade and played with them all the way through freshman year when she joined Aztec, who she still plays with today. At age thirteen, Jocelyn became intrigued with the process of recruitment and applications that her sister Courtney was going through her senior year. It was the mix of club soccer and her sister that opened Jocelyn's mind to wanting to continue playing soccer after high school.
Jocelyn hasn't committed to a school yet but has talked with four different coaches, has done a camp at Stonehill College and is doing an overnight with Saint Michael's College. She was offered a spot on the team at Saint Joseph's College of Maine but felt like she wanted to keep her options open. She said, "there really hasn't been one to lock down with." so her search continues!
Although Jocelyn was inspired by her sister and the fact that her whole family and her coaches have all been really supportive throughout her process of deciding, she feels as if it is more of an individual effort. She has received a lot of guidance, but wants to be more independent in her efforts of deciding where to go.
Jenn Starrett
Guidance counselor Jenn Starrett played soccer for four years, softball for one year, and skied for one year at Tufts University. Ms. Starrett has so many great things to say about playing a college sport and when asked what advice she would give for students making the decision she answered with, "the advice I would give is to decide to play! I couldn't have imagined my life in college without sports." She told us that it's a perfect way to make friends and the traveling is awesome. Ms. Starrett often hears from great athletes about their decision to not carry out their career to college because they want to focus on academics but she informed us that studies show an athlete's GPA is higher in season than out of season. This is because you have more time to procrastinate.
Ms. Starrett also offers the advice to take action if you're somewhat interested! Contact coaches, set up times to go watch the teams play or practice, schedule overnights, meet the coach, make a highlights video, fill out recruitment forms, send coaches transcripts and test scores, etc. "The process can be very time consuming but just as rewarding too, once you're on the team." She loved her experience of being a part of the soccer, ski, and softball teams at Tufts University and highly recommends playing a college sport if you're so passionate about it.
Max Benford and Jocelyn Long gave us a taste of what it's like to go through the decisions of wanting to play a college sport and Jenn Starrett helped us to understand how amazing the experience can be.