David Ortiz Gone But Not Forgotten
        Bos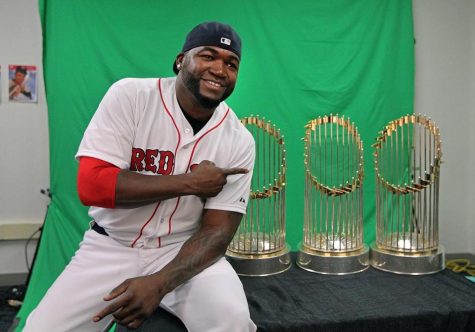 ton is considered of the greatest sports cities ever. Sometimes Boston is referred to as title town  The fans are passionate, and the teams are always good. This is because of all the great players that have come through and played for all the New England sports' teams. One of the most influential players that has ever played in Boston may be David Ortiz
David Ortiz has done so much for the city of Boston on and off the field. In 2004 the Boston Red Sox broke the curse of the "Bambino" by finally winning their first world series in 86 years. Without him the Red Sox may have never won the World Series. Ortiz also led the Sox to two more World Series in 2007 and 2013. In his future Hall of Fame Career, David Ortiz was a 9 time all star, has 541 career home runs which is tied for 17th all time. He has won multiple Silver Slugger awards, is a 3 time world series champion, and won the Home Run Derby in 2010. When Sox fan Vinny Minghella was asked what he remembers about David Ortiz, his favorite memory was, "In 3rd grade my dad and I went to a Red Sox game and David Ortiz hit a walkoff home run to help the Red Sox get the win which he has done his whole career. Also Vinny believes," Ortiz should be in the Hall of Fame as one of the greatest hitters to ever live." Much like all his accomplishments on the field, he has also done a lot for the community.
      Ortiz's off the field accomplishments make him the person that everyone loves. Ortiz also known as Big Papi, got his Nickname because he could never remember anyone's name, so he called everyone papi. After being with the Sox for a while, all his teammates started calling him Big Papi because he was such a leader in the clubhouse. Some of his accomplishments off the field include the Roberto Clemente award in 2011, which is awarded to the player who,"best exemplifies the game of baseball, sportsmanship, community involvement and the individual's contribution to his team". Ortiz also started the David Ortiz Children's fund in 2007. He also helps the many communities in the Dominican Republic, by helping teach the kids the game of baseball and making sure they have all the equipment they need. In 2013 after the tragic Boston Marathon bombings David Ortiz brought the city of Boston together when he got up in front up all the fans and gave a speech and said," this our city". The Red Sox would later go on to win the World Series.
When baseball enthusiast Gardy O'Flynn was asked, can athletes such as David Ortiz inspire so many people and have a huge impact on a city? His response was, "Yes without sports life would be completely different, sports bring cities together, bring people together, and give you something to talk about." After the bombings the city of Boston was in fear, but Ortiz helped to bring the city closer.  "I wasn't a sox fan for awhile but David Ortiz brought me back, and made me a fan of them again; he was a great role model, and did a lot for the community without seeking acknowledgment," said Gardy O'Flynn.  Ortiz has been a great person on and off the field; the Sox have a big gap to fill now with his retirement. He will truly be missed by all of Boston and New England; his farewell gifts of having a bridge named after him is well deserved. Boston will miss you Big Papi…..