Ipswich River in Danger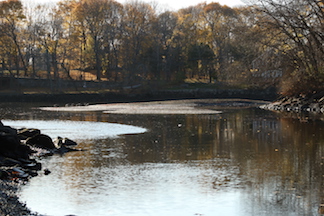 The Ipswich River, which is relied upon by 14 cities and towns for water, recently had record low water levels. A mild winter and dry spring put the North Shore in a serious drought, which has had a very negative impact on the Ipswich River. The river was in treacherous territory, with tributaries drying up and water levels running dangerously low. This drought was so bad that Environmental teacher Lori LaFrance said, "This summer, the Ipswich River had the lowest flow rate in history."
In March, there had been a stronger-than-normal Bermuda High which weakened the low pressure systems as they moved through the eastern U.S., and contributed to drier-than-normal conditions. Then, a combination of dry Canadian air masses and upper-level ridges led to below-normal precipitation in April and May. The dry conditions continues on into the month of June. Throughout the summer, there had been a low relative humidity, windy conditions, and warm temperatures, which would contribute to greater evaporation. There had also been a lack of clouds, and with the clear skies, there was more solar radiation which caused an increase in evaporation throughout the region. All of these things factored into this year being one of the driest in quite a long time.
The poor condition of the river due to drought has had a number of negative effects, both environmental and societal. For instance, as the river flow decreases, the water temperature rises. According to Mrs. LaFrance, "This leads to fish kills and a loss of diversity in aquatic invertebrates. These invertebrates are important because they are at the bottom of a food web that keeps our river ecosystem healthy." The societal impacts are almost as bad. Lawns and plants began to die, and towns were beginning to run out of water. In an interview with Anthony Marini, nephew to Marini Farm owner Mike Marini, he said that, "The drought made everything harder. The crops suffered, and when our water reserves started to run out, things just got harder."
This drought was so bad that water bans were implemented and enforced. This means that in many towns and cities, people were not allowed to water their plants, lawns, or anything outdoors. However, some places were grandfathered in, and therefore not subject to water regulation laws. This is a problem because it means that while some people are doing what they can to preserve water, others are simply taking what they want with nobody to stop them. Some towns switched to taking water from other sources like reservoirs or springs. While it certainly helped, it's not enough.
When asked what's needed to get the Ipswich River back to normal Mrs. LaFrance said, "I don't think anyone has an exact number, but I have heard knowledgeable people estimate that we will need at least a year and a half of unusually high precipitation."
Recently, there has been an increase in rainfall which has helped the flow of the river. Although it has been a small amount, the river has now been able to flow over the dam near ebsco where it hadn't been able to just last month. At the moment, it appears that the drought is lessening, which is a great sign, but there will need to be a lot more rainfall for the river to flow with consistency. The condition of the River may be improving, but people should continue to use water sparingly and do what they can to help.