Meeting the Expectations
This year the girls Indoor Track team has a lot of expectations to live up to.   After a total of three years undefeated, the team is being challenged with the possibility of another year.  The girls team has always dominated their bracket, and it is now up to them to defend their title.  
This year the team is lead by Amanda Recupero, Zoe Doran, Abby Fitzpatrick, and Lauren Gallant.  They will be in charge of hopefully leading the team to victory this winter.  The team is extremely well represented with many impressive athletes.  
Mr Binette, the coach of the team, is proud of his team no matter the outcome of this season.  He believes that, "The coaches are very excited about the season and the athletes have been working very hard.  As usual, we have high expectations for our athletes, and we think they'll step up nicely."  The bracket this year will be tough, and the team will absolutely be challenged, but they have an amazing chance of victory.
Delaney Whooley, the runner of the 600, believes that the team needs more depth in each event, and that in order to do this, they will need to work hard in every single practice to make up for lost runners.  "Michaela Hedderman was a really good leader and never lost a race her whole four years." Last year the team had some of the best runners in the state.  Now after losing these runners, the team will have to try the hardest that they ever have in order to keep their reputation. Although this year will be tough, Delaney believes in the team, "We have 95 people going out for track this year which is really good and it's going to be a great rebuilding year."  
According to Amanda, the underclassmen will really have to step up this year.  "This year it may be a challenge for our team to defend our undefeated title. We have our top two runners who would earn a lot of points for the team. Underclassmen will have to step up in order for us to keep our title."  They have big shoes to fill after the loss of some of the team's best runners.  "We will have to take on more underclassmen and try them in different events to see what works and see how they will compete in those events," she added.  
Also, another challenge this year will be the competition.  The teams that Ipswich will be competing against are very strong and will be a challenge.  "Teams such as Masco and Pentucket are the toughest teams for us to compete against. They have a lot of talented athletes, and for the past few years they have been the closest to beating us."  Although the team may struggle this year, Amanda still believes that they'll be a team to watch out for. "I believe that the team will struggle against some teams but overall I think we have a a bunch of underclassmen and upperclassmen that will step up and perform well."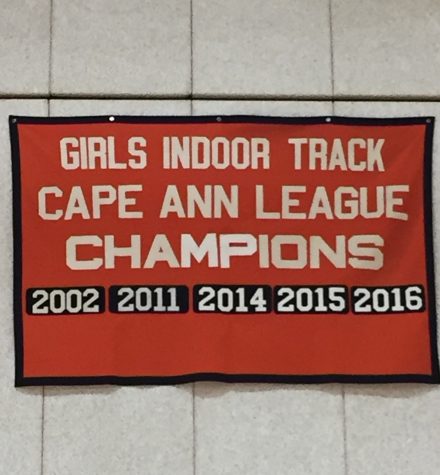 Over the past couple of weeks, the team has participated in two track meets.  They have faced loses, breaking their streak, but they still are predicted to win many more.  The Lady Tigers plan to put in as much effort as they can in order to win as many meets as possible.  The school will be there to cheer the Tigers on and support their effort.