Carnegie Hall: An Ipswich Story
What does it take to perform on a world renowned stage? In some cases, you don't have to be a professional. Sometimes it takes a group of students who set their mind on a goal and achieved it. Local Ipswich High School Chambers group just took a trip of a lifetime to Carnegie Hall and they can only have themselves to thank for it. A week off from school, exploring New York City and performing at a world class venue does not come easily. They had to earn their right to perform there, facing off against thirty other groups. For some of these young talented musicians, it could just be the beginning.
During the month of April, you might have noticed Instagram and Snapchat blow up with pictures of a certain group of people in New York City. Everyone knew where the Chambers group was during this time. But how did they end up there? Orchestra President and senior Josh Dumont says, "After getting a gold medal at our MICCA competition, we got the opportunity to perform at the Boston Conservatory of Music. Our performance, the best, was recorded and sent in as an audition tape to the festival at Carnegie Hall. We found out a few weeks later that we were accepted into the festival." It's no surprise that an Ipswich ensemble was able to achieve this as Ipswich High School has had incredible success in music on all spectrum: orchestra, band, chorus, and everything in between. A common mistake to make is to think that Chambers is the orchestra. Chambers in not the entire orchestra. These are selected individuals that were the best in their respective instruments.
What was the experience like? It's not everyday that someone gets to go play at such a venue and the opportunity must have had an impact on the students, not just in a wow factor way, but also a relationship way. Dumont says, "The trip to New York was a great experience, and the orchestra became a lot closer as friends during the time we were there. Performing at Carnegie Hall was a once-in-a-lifetime experience, and it was truly breathtaking." Senior Leah Harmon was a part of the trip and the quality of the venue was significant for her, saying, "The sound in there is incredible and it's rare to get to play there as a non-professional musician." Not only did this bring the opportunity of a lifetime to some kids but also new friendships that will last after the trip too. Hopefully these friendships will build an even stronger Chambers group to win even more competitions and go to new places!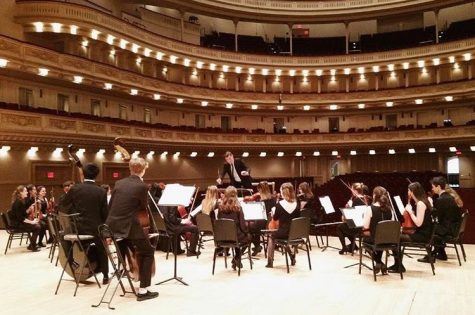 So what's next? What holds for the future of Ipswich Chambers and its members. Harmon plans to stick with orchestra in college as she heads for the University of Notre Dame, saying, "I am planning on playing in college. Not studying music, but definitely will continue to play in orchestras." Dumont hopes that the team will be able to be invited again next year. When asked if he would recommend future trips he replied, "Of course… as long as the orchestra can get invited again!" Not all credit can be given to the musicians though. The man who led the group was Mr. Coelho, a two year member of the Ipswich music department. Dumont gives a lot of credit to him, saying, "The opportunity would not have existed without our conductor and director, Michael Coelho." Hopefully he will stay in the department for many years to come to be able to provide these young talented students on an unforgettable trip again.
When Ipswich music comes to mind, a lot of people think of the popular jazz band that has had a lot of success over the course of school history, thanks to Mr. Dolan. However, the Ipswich Chambers group has not only become a hot topic among students at the school, but a role model to those who wish to achieve what they did. It is hard to see what the future holds for some of the seniors as they depart to college, but it is no doubt that the experience and friendships that were gained along the way will never fade.