The Next Step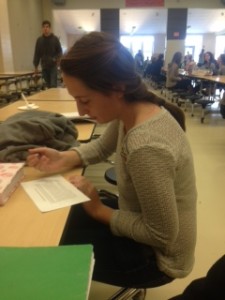 It's finally your senior year; supposedly it's easy and laid back and you don't really do much of anything. However, this isn't actually true; college is right around the corner and this complete process is truly rigorous and time-consuming. Most students don't realize how much work and stress goes into applying to college. It's not very well known, but it's best to start the process during your junior year, or the summer before your senior year. The first thing you should do is research what schools you might be interested in and think about what activities you might be interested in that each school offers. After you figure out what schools you might be interested in, you should make an appointment to tour each school, to get a better feel for the school, and see if you can picture yourself going there. Going and visiting schools can really weed out a lot of them, because you can see how far away they are from where you live and if you like the campus or not. You can also decide on whether you would rather be in a city or somewhere less populated.
Another thing you may want to do your junior year, or early in your senior year is take the SATs or the ACTs. The SATs are more English based, and the ACTs are more math and science based. Some schools will accept either test and some only accept the SATs. Many students choose to take both tests and then send in their better scores. Senior Maddie Werner said, "the SATs are not a good measure of student intelligence, and they shouldn't be a factor in deciding whether you get into a certain college or not." This is a common opinion because many students don't test very well, and sometimes some students get really nervous and don't perform to the best of their ability. Unfortunately students will probably always have to take either the SATs or the ACTs.
Next, you should start filling out your Common Application or Common App for short. The Common App is great because you can apply to several schools all at once, instead of having to fill out a separate form for each college you're applying to. It saves a lot of time and makes applying to college that much easier. The most difficult part of filling out your common app is writing your essay. You get to choose one of four topics to write your essay on. Sometimes it's good to write several different essays on the different topics and then choose the best one. Your essay needs to be more than two hundred and fifty words and less than six hundred and fifty words. You always hear about college essays and how hard they are to write, but they really aren't too bad. If you can find an essay topic you are really passionate about, your essay basically writes itself.
Next you should ask a teacher to write a recommendation for you. It helps if its a teacher that you're close to or one whose class you did really well in. Your teacher will want you to create a resume so that they can write the best recommendation possible for you. Throughout this entire process you should talk to your guidance counselor. Guidance is a fantastic resource and they can answer any questions you have about the entire process. Lastly, a really good thing to do is to ask students that have already graduated what advice they can give you about applying to college. Lisa Burt, whose son just graduated from college, said "seniors should start this process early, because the later you leave it, the more stressful it gets."
Leave a Comment