Seniors Disgruntled About Extended Thursdays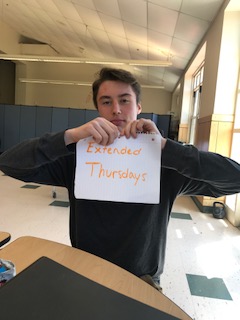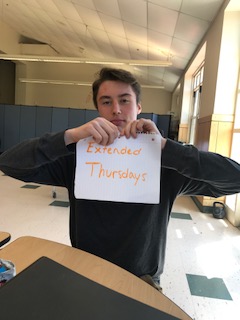 Within the past two weeks, the Ipswich School Committee decided to extend the school day one hour each Thursday until the end of the year to make up for two snow days. Although teachers and underclassmen are happy that this will make their last day June 22nd rather than June 26th, seniors are annoyed. They feel that they should not have to make up snow days because their last day is May 24th. Their scheduled last day would never be postponed because it would interfere with Senior Week. Also, in the past, seniors have never had to make up snow days.
Massachusetts Public Schools must follow the regulations of the Massachusetts Department of Education (MA DOE) regarding student learning time. According to the MA DOE website, "All days lost to health, weather, or safety emergencies between the first day of the school year and March 31st must be made up by rescheduling full school days to ensure a 180-day school year" (http://www.doe.mass.edu).  Ipswich High School Assistant Principal Jeff Carovillano explained, "We need a certain amount of hours each year, and instead of having to come an extra Monday and Tuesday in June, we will get out two days earlier." As for why seniors have to participate, he continued, "The Department of Education says whoever is here during the school day should be here for the same number of hours a day as everyone else."  He added that the schedule change reduced conflicts because some people could not take exams on that Monday and Tuesday due to vacations planned months in advance.
Although senior Jake Colletti understands why the school is making Thursdays longer, he does not agree that seniors should need to participate in the extra hour.  He said, "I think they shouldn't because it doesn't affect them, and it's a waste of time. I don't like it, and I find it unfair to the senior class. We're forced to come to school more hours than we should."
According to the state mandates, the date of graduation does not need to be rescheduled. As long as graduation is held no more than twelve days before the regularly scheduled closing date, it should not be affected by snow days. Seniors may be released as early as the 168th day of school.
Another way to make up snow days could be through another idea: "blizzard bags." Blizzard bags contain work that students would get from each of their classes to do at home during snow days. As long as 80% of students complete the work, the snow day would count as a school day and would not need to be made up at the end of the year. Brendan Hughes, Ipswich High School math teacher and Massachusetts Teachers Association (MTA) representative, said, "Most people would be for the blizzard bags and the MTA would likely be in favor of them." He added that schools in the district are piloting them to see if they work.  However, in order to fully implement blizzard bags as an alternative to making up days, they will need to be approved by the state, the school committee, and the MTA.
In Conclusion, Our Ipswich School Committee has decided for the best that the high school extended our Thursdays. Even though Thursdays were our release days, where we got out of school at 1:17 to make up snow days they decide to add roughly an hour. Since the end of April, our Thursdays have ended at 2:27 so that we could get rid of extra makeup days. Even though this may sound better, this contradicts with seniors who are still in school. Seniors had an opportunity to do Bridge in April where they were taken out of school to work instead of learning and be inside of the school.