Senior Portfolio Artwork Dazzles All at the Crane Estate Art Show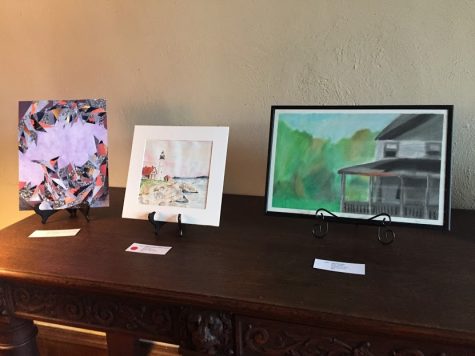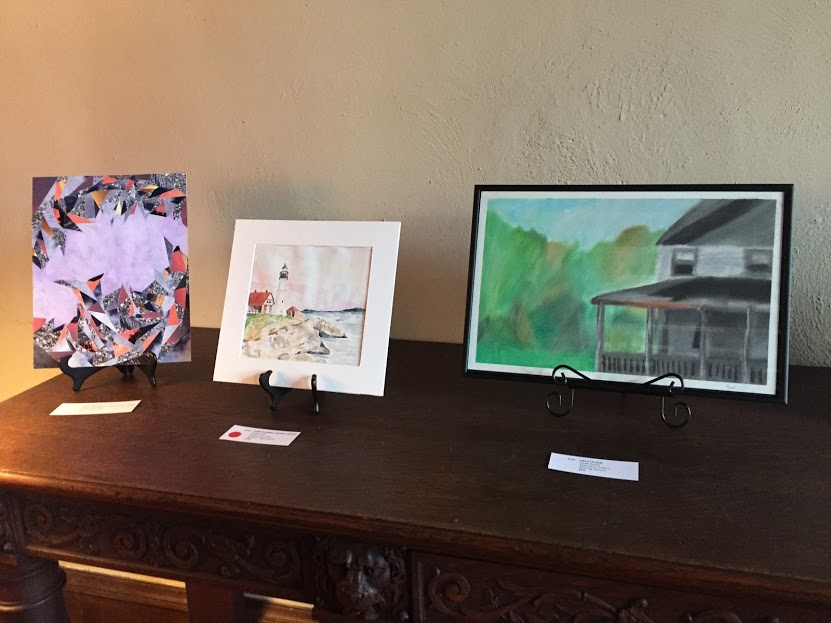 On November 3, Ipswich High School's very own portfolio class participated in their first art show of the year. The event was the Crane Estate Art Show, presented by The Trustees and featured over 300 pieces from all local artists. The show features a diverse spectrum of skill, ranging from high school, to college, to professional artists. Ipswich High School has traditionally participated in the show, and we have shown work in it for over ten years. Ipswich became the first high school to submit artwork to the show. Creating artwork for the art show is a requirement for portfolio students.
The theme of the Crane Estate Art Show is earth, wind, fire, and water. Portfolio teacher, Mrs. Pepe, believes that the theme doesn't have to be the main focus of a piece. Students often try to add something last minute to fit the theme. Mrs. Pepe comments, "It's nice for the people hosting the exhibit to have a theme so there might be something tying things together in some way, but it is not always concrete. It isn't as important as you might think." Although it is not a requirement to follow the theme, walking through the show it is quite prevalent. The main building, featuring local professional artists, was filled with nature-inspired pieces, iconic Ipswich sites, as well as countless paintings of shorelines and beaches.
Students that do adhere to the theme often have a specific market: Ipswich locals. Selling work is an option for anyone participating in the show, and a good way for the students to make money. However, others feel as though developing a portfolio piece is more important, and will stray from the Ipswich audience. Mrs. Pepe adds, "Some people are interested in marketing their pieces and want to make things that relate to Ipswich, but other students that are more comfortable with their particular interests or their making something for a portfolio, or it's not for sale, will expand into a niche area that they're curious about. It all comes down to that exhibit ready feel: craftsmanship, theme, and a completed piece."
Ipswich's presence at the Crane Estate art show is strong. "Last year, the director of the program called me and said that we sold more art than any other school and we charged the most for it," says Mrs. Pepe. "Personally, I think a lot of the high school students' art is even better than the Montserrat art." When going about selecting an art show to participate in Mrs. Pepe says, "Through my experience of trying different shows, I've selected the ones that I feel have the most visibility, have really great food, and are really kind and considerate when they think about students that participate and how likely we are to have our students' work shown." Other shows we participate in include Montserrat, Endicott, and Scholastic Art.
Mrs. Pepe encourages her portfolio students to submit a piece of their own art into the show. Clyde Schultz, a senior at Ipswich High School, has sold work at this art show in previous years and decided to put more of his stuff up this year. He submitted a photograph titled British Soldiers at Daybreak. "This was taken during the summer and I was in Canada, so I didn't really have anything with me other than a camera. It was the deck of our cabin and it had rained and there was all this moss growing all over it," says Clyde, sharing his inspiration behind the piece. He plans on selling this piece in this year's show.
Another portfolio student from Ipswich, Sophie Harmon, shares with us her piece for the show. The medium for her piece is watercolor. "I like watercolors the colors the best. I wanted to do kind of a fun, light, painting." Sophie comments. This is Sophie's first art show and she plans on selling her piece for 40 dollars. The title of her piece is Portland Headlights. Her inspiration for the piece came from her dad. "My dad is from Cape Elizabeth which is right outside Portland, and he has a wall of old pictures from his hometown in the basement. Everytime I do laundry, I look at that lighthouse we have a photo of. It's really famous," Sophie shares.
The students at Ipswich High School look forward to participating in this art show every year. Preparing for any art show isn't easy and meeting deadlines can be difficult. That's why it is so important for high school students to display their work. The portfolio class at Ipswich works very hard to create pieces that are unique to the individual but can mean something to outsiders as well. Giving these students a place where their art can be admired and bought is an amazing reward for the all the effort that they put into their art.