Jack Welch: An Ipswich Icon
If I could describe Jack Welch in three words… I couldn't.
 Hard-working, charismatic, intelligent, interesting, athletic
"wicked smaht"— the list goes on and on
.
Coach Welch is an icon in all ways imaginable.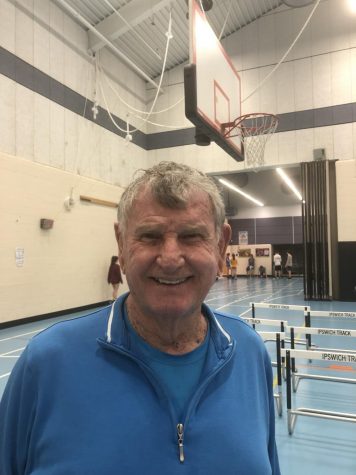 The legend our football stadium is named after is one of the best coaches you will be lucky enough to meet. Jack Welch is an Ipswich (and Newburyport) Icon. He is named the second greatest football coach in the North Shore and countless awards. Current high schoolers might know him as the throwing coach for the Ipswich track team. Most though, know Jack Welch as one of the most successful football coaches in Ipswich history and a former teacher at the high school.  Jack Welch was an outstanding coach and teacher at Ipswich High School for 46 years. Honored as Coach of the year more than 6 times, Coach Welch led the Tigers football team to 8 Cape Ann League titles, and eventually a groundbreaking number of 5 State Championships! And in 1995 Jack Welch was inducted into the Massachusetts High School Football Coaches Hall of Fame. Jack Welch also received the Elliot Roundy Distinguished Service Award in 2001, in name of one of his fellow coaches and friends.
Jack Welch's Philosophy is "Playing to Win" and he undeniable did just that.  "Coach Jack Welch is one of the most respected and successful high school coaches in New England history, with an overall record of 224 wins and 132 losses and 6 ties. He was named the second greatest football coach on the North Shore." Said Ipswich High School Boys Varsity Lacrosse Coach, Glen Foster. All of the titles Jack earned weren't motivated to benefit himself, he did it because he loved coaching and helping student-athletes reach their full potential."I used to be a lot tougher on the players when I coached football. Because of that, the values they learned then stuck with them and  successful most of those players learned the values that ."
One of the things I like most about Coach Welch is that he is humble and lives in the moment. Though throughout his life Welch has racked up numerous titles, awards and accomplishments– it doesn't mean he is done. Everyday he continues to play a key roll in the Ipswich community and always is a motivator and roll model to the to the students, faculty and the whole community of Ipswich.  Jack Welch lives in the moment and because of that he is always adding a new chapter to his success story.
Everyday Jack Welch reminds us that those who work hard will always be successful in life.