Rising Tigers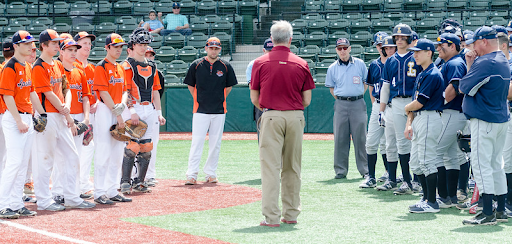 The Tigers Baseball team has had a rough decade of not making the tournament. The playoff drought has taken its toll on the players and they want to end it this year with a senior rich team. Zach Lampkin made people believe that he can be the one to turn things around and make baseball relevant in Ipswich again. "I think if we get a healthy team we can go places and surprise everyone; a 5-15 record does not bring us to the tournament but it gives us opportunity." Dedication and grit seems to be a way to make it up to the top and that's what they got to do.
On the diamond, they have a pretty full team only losing 2 players. The depth is there and the competitiveness is also. The tigers were plagued with 1 run losses for a lot of the season. They never seemed to be the winner of those games which is tough because there were situations with the bases loaded and they just couldn't pull through. So much of this game is being able to deliver in clutch situations and the group just had a hard time last season. I think if they are able to play a full game of baseball they will be successful. For example, the Tigers would always be down by seven or eight runs and would come back to have it be one swing of the lumber to end it. Lampkin adds, "If we put the work in during the off-season good things will happen; For as long as I have been here it hasn't been there for the whole off-season."
Hitting a baseball is the hardest thing to do in any sport. A ball coming in at 70 to 80 mph and you have less than a second to swing and make contact with the ball. This has been the Tigers' worst fear. "Too much just standing there and looking for a walk has been a downfall because just of the fear of hitting because we're not the best hitting team in the Cape Ann League." Our fielding has been pretty solid especially because I think we have by far the best outfield in the Cape Ann League. We have Kivekas who has the best fielding percentage and batting average on the team also best on base percentage at 500 on the dot. James who is supposed to play center is probably the best athlete at Ipswich high school, he gives our team the quickness and versatility. All around we can put him anywhere and he will get the job done. Great hitter and even better shortstop because that's where he excelled. As a pitcher whenever the ball would get hit his way I basically knew it was a sure out. In left Stedman is a great leader and does his job with ease. Every year he gets better and better and produces in left with diving catches and at the plate also.
Something that the Tigers are very good at is pitching. They have Kivekas as their ace then Duffy or James either one is very talented and Stedman for relieve. It's something to think about if you have 4 solid pitchers that can be plugged in at any time no matter what the situation is. They average only 2.9 walks a game which is very good. All of them are good at throwing sliders, cutters and curves. "It makes me sleep at night during the season knowing that our 4 best players excel in the pitching category."
The infield is solid; new upcoming freshman Finn Mclennan will play a big role taking over at 1st base. In the off-season he was hitting the ball well and picking balls out of the dirt like it was his day job. At 2nd base we have Drew Anderson; he fields the ball pretty well, but with more rhythm for this kid on the dirt he will show why this job is for him.
At short and 3rd are Duffy and Baise; both are well rounded athletes hitting the ball well and providing stellar defense for the mighty Tigers. Lastly, playing a big role will be our bench. .
In conclusion the Tigers have to step up if they want a tournament run. They have the tools they need; it's just how they will use it to win games, especially to upset big schools like Lynnfield and MASCO. This will put Ipswich on the map.