What Exactly is Model UN?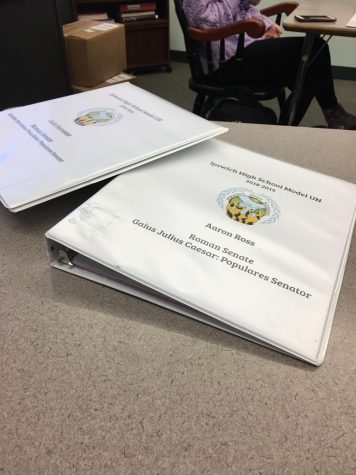 During my Sophomore year at Ipswich High School, a few of my older friends had convinced me to join the Model UN club, to which my response was, "what is Model UN?" While the club has 40 members this year, I still am asked the same question at least once a week; so what are the Model UN kids up to?
The Model UN club meets most Wednesday mornings before school at 7:00 A.M. sharp. Members of the club are assigned to roles and are expected to research and rehearse playing the parts of the individuals or countries they are assigned to represent. All this research and representing countries and political figures lead up to the EAGLEMUNC Conference in Boston, MA every year. The conference is held at Boston College and is ran by college students.
This conference is a 40-hour simulation that houses many small and large committees. The committees range from a wide variety of topics. Some committees are about modern world issues, like the United Nations Commission of the Status of Women committee, or the World Food Program committee. Committees like these are often larger, and the roles given to delegates (high school students attending the conference) are often those of entire countries. There are also some more "fun" committees, like The Roman Senate committee, or the Pirate Republic committee. These historical base committees are often smaller, and the roles assigned to delegates are those of actual individuals throughout history. In my experiences, Boston College has always offered a great blend of real world issues as well as historical, and even mythological committees; there is always a committee for everyone.
The Model UN club at Ipswich began in 2005. "A student wanted a social studies club, and I offered Model UN, and we started it," said Mr. Krieger in an interview.  "We went to Boston College, and I've been the advisor ever since." Since 2005, the Model UN club at Ipswich has drastically grown in size, standing 40 members strong this year. Model UN is not by any means a new concept; however, it has grown increasingly popular. Mrs. Hayoz-Laverdiere reported that "We didn't have Model UN [at my school]." When asked what their favorite part of advising the club is, both Mr. Krieger and Mrs. Hayoz-Laverdiere responded similarly. "My favorite part is working with you [the students] and really watching you [them] grow and take ownership of [their] roles, and really involving [themselves] in real world issues," Mrs. Hayoz-Laverdiere said.
The Model UN club at IHS has won awards in the past and continues to do so, but awards have never been the focus. When asked how successful Ipswich has been over the years at conferences, I was told by Mr.Krieger and Mrs.Hayoz-Laverdiere that "It's not so much about winning awards that deems success." Ipswich stands out among the crowd because our school treats Model UN differently than many of the other school that attend the BC conference. Some schools have actual Model UN class and participate in multiple conferences each year. Some schools that attend are particular as to who goes where and who represents who out of the attendees. Ipswich is a very inclusive group, if you want to join, all you have to do is show up early in the morning, and be ready to work hard.
Model UN is an amazing experience, between the copious amounts of research and learning that you do towards the beginning, right down to pretending to be world leaders toward the end. In Model UN, you can feel like you are making a difference unto the world at a young age. You can get a glimpse into a future that you may want to pursue or look into history that excites you. In the end, no matter what you get out of this article, I hope you take away how fun Model UN is, and you should most definitely join next year.