Are You Stressed About the SAT?
When we asked our classmate, Grace Campanello, about her experience with the SAT, she responded, "I felt a lot of pressure because SAT scores are required for nursing. I took the SAT twice. I was scheduled to take it three times, but my appendix got in the way. I wish my score was a little higher, but at least it went up instead of down." 
The Scholastic Aptitude Test, commonly known as the SAT, was originally administered to American soldiers as an IQ test. In 1926, it was first used for college admissions, with only 8,040 test takers, compared to 2.2 million last year (Jacobsen). The exam is built to represent one's preparedness for college in terms of "key skills like reading comprehension, computational ability, and clarity of expression" (Heimbach). Despite the fact that the SAT typically accounts for less than half of admission decisions, it still plays a major role in students' stress. 
Furthermore, based on the number of questions and the total duration of each section of the test, students have limited time per question in order to complete the test. Without the optional essay, you have three hours to complete the SAT, plus an additional 50 minutes with the essay. Intelligence does not necessarily equate to speed, which can cause further worry about SAT results.
In 2019, the average SAT score was 1059. The test costs $50, with an additional $15 fee if you do the optional essay. After surveying 23 Ipswich High School seniors, it was found that 95.7% of students scored above this average. In addition, most students felt fairly prepared for the test and 43.5% of those surveyed began studying at least a month before taking the SAT. However, this survey also revealed that most people had a high stress level regarding the SAT, specifically from their own personal standards and viewing college admission data.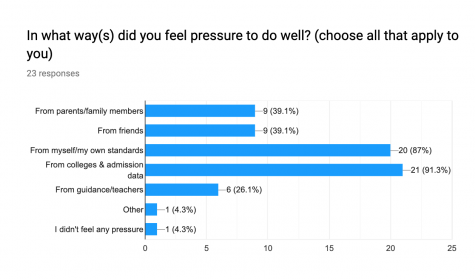 During an interview with guidance counselor Claire Powers, she responded that "[the SAT] can be a lot on students, but juniors and seniors deal with big-picture stress as well," like juggling grades and more rigorous classes, sports, and extracurricular activities, while still enjoying their time as a teenager. More and more colleges are becoming test optional, but a strong SAT score can still boost students' chances for merit aid, scholarships, and acceptance. Additionally, results on this exam vary greatly from student to student. An individual's score does not necessarily reflect his or her academic performance and overall abilities. For instance, a student may not be a good test taker, but excel in school or the opposite. Despite its drawbacks, Mrs. Powers believes that everyone should still take a shot at the SAT. 
In order to reduce stress, here are some tips to make your SAT experience less painful. First, you have the option to take the test as many times as you would like, and most colleges will superscore your results, meaning they will combine the highest scores in each section. Test preparation is also key to obtain a score you are happy with. Online programs like Khan Academy, Prep Scholar, and Fairtest.org (which lists test-optional schools) as well as books and courses are valuable resources. Most importantly, all students should remember that the SAT is not the only factor that is considered by the colleges you apply to, and it is not an IQ test. The next time the SAT will be offered at Ipswich High School is May 2, 2020. Try to approach the exam with confidence and an open mind!