Struggling Year, Promising Future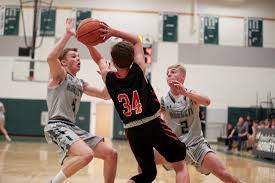 The IHS varsity basketball team is currently sitting at 3-15 after winning their second and third games of the season to a now 7-8 triton team and Pentucket at 5-10. This team consists of three seniors, one junior, four sophomores, and two freshmen coached by Alan Laroche and Jimmy Rea. This is a very young team compared to previous years
The team is led in by myself, senior Will Vanderbilt who recently scored 34 points on senior night against the HW Generals. Will is currently averaging 13.7 points per game, 5 rebounds, 2.2 assists, and 2 steals. Will gets a lot of help from other players like Ray Cuevas scoring 11.5 points per game and Nikhil Webb- Walker with 10 ppg. It isn't often that there are three players who average 10 or more points per game on the same team all at once… This year with only one senior scoring in double digits it puts more pressure on the younger kids to step up and perform every game. This year has felt different for me compared to other years playing basketball, usually, the starting lineup is filled with seniors and the points are spread out between them. This can be very tough for players without much varsity experience which might be why our record isn't very good. 
We interviewed freshman Ray Cuevas to get his perspective on how the season is going and his outlook on the future of the program. We started asking him, With a young team of developing players, what do you think the team will do next year?. He responded by saying " I feel like we will be good if we put the work in during the off season". The second question we asked was, Do you think the inexperience of playing varsity for most players has impacted our record this year? He said, "yes, because of the speed of the game and physically". The third question we asked him was, how many games do you think we will win in the remainder of the season? Ray said, "out of the 4 games left I believe we are gonna at least win 2 out of the 4 games". We also asked him if he thinks there will be a tournament run in the near future and his response was " Yes definitely". The second to last question that we asked him was if he plans on playing the remainder of your high school basketball career at Ipswich High School? Ray said he wants to stay sophomore and junior year and if he gets looks from a private school he will do that or he will do a post-grad year. The final question we asked him was, Being the second-highest scorer on the team as a freshman, do you feel more pressure to perform every night? Ray said, "Yes I have to put pressure on myself in order to play well".  
In conclusion, the Tigers basketball team is having trouble winning games with such a young group of kids but has shown they can compete with teams like triton and Pentucket on any given night. This gives hope to the future of the program since only three senior players are graduating and the younger players are developing faster than anyone could have thought.