Kobe Bryant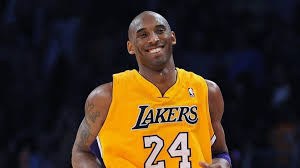 As most of us know, or if you don't know you will, on January 26th of this year we lost one of the best basketball players in the world, Kobe Bryant. He was a world renowned athlete who didn't only play the game of basketball, but inspired so many lives in so many ways mentally and physically. His power, compassion, and drive to be the best allowed him to stand on top and let others follow his path. The drive and mentality that Kobe had has inspired many people. These traits that Kobe Bryant showcased through basketball give people a sense of urgency to become better. A lot of people will mourn over Kobe's death. How does this drive urge other people to work hard?
Kobe's "Mamba Mentality" was very well known and very powerful. This mentality consisted of being the absolute best you can be in order to be who you want to be. Kobe played basketball 24/7 and would constantly find ways to make himself better on and off the court. Countless hours were spent in the gym perfecting the craft of basketball from layups to three pointers. If Kobe had any doubts he would avoid or ignore them with ease. All these traits would fall under the overarching theme, "Mamba Mentality" which everyone dearly loves about Kobe. This inspiring mentality spreads wealth to many people on how they should be living their life. 
Early in his career Kobe became a well known figure around the world for this "Mamba Mentality." People started to look at Kobe as more of an icon and a role model rather than a basketball player. People started posting about Kobe and going viral about Kobe as he was persevering to get famous. Kobe also was a huge supporter of charity. He donated lots of time and money into charities and helped them as much as he could. Bryant is also a huge supporter of the WNBA, for those of you that don't know what that is, it is the Women's National Basketball Association.
As some of you may know Kobe's daughter Gianna also died in the helicopter crash. She was Kobe Bryant's best friend and she strived to be the best at the game of basketball just like Kobe did. She learned everything she knew from her dad. She got the love and the passion for the game through Kobe and tried to be the best she could just like him. She never settled for anything but the best following in her dad's footsteps. We asked Mr. Downing if he thinks there will ever be someone in the league with the same mentality. "There will be players that will come into the league and say they want to win, but I don't think anyone will have the same mentality as he did."
Kobe was only 41 years of age, and according to most people like Carmelo Anthony, "Kobe was the happiest I've seen in awhile after he retired, spending time with his family, and especially his daughter Gianna." Almost all big players and celebrities responded to Kobe's death with, "I'm at a loss for words." Throughout the years of Kobe's NBA career many bonds were created with other players. The NBA and its players pledged to switch the logo for the NBA to Kobe. Many players and coaches want to see this change but the NBA is still deciding on it. In our own eyes we would love to see the logo change to Kobe since he was such a role model and great player. 
Overall Kobe's death was one of the most tragic losses throughout the league's history and he will always be remembered as a legend. Not only his family and friends are mourning this loss, many people will be affected by Kobe's death.  They lost an inspiration, teammate, and mentor. All around the country people are trying to show their respect for Kobe's death now this is how we show ours.