Miley Cyrus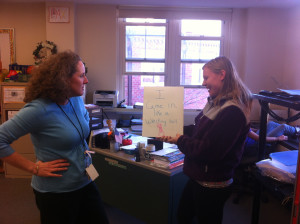 When you hear the name "Miley Cyrus", what comes to your mind? For some words like "twerking" and "peculiar" do. For others, great and amazing come to mind. It is very easy to tell that many either love or hate Miley. But the real question is "why"?
Miley Cyrus first became famous after first landing the role of Hannah Montana/Miley Stewart on Disney Channel's hit series "Hannah Montana". Her singing career developed from the show, where she played a normal girl by day and a pop star at night.
In 2007, she signed a contract with Hollywood Records and released her first album as Miley Cyrus, "Hannah Montana 2: Meet Miley Cyrus".  She released two more albums and one EP under the Hollywood Records label. She also starred in two movies and completed a world tour. On Miley's third album, "Can't Be Tamed", she created a much more mature image.
After a three year hiatus from the music industry, Miley signed with RCA records and began work on her fourth album "Bangerz". Just before she began work, she cut her hair. This was a statement of change in her life and the beginning of her new image.
The first single, "We Can't Stop", created quite the controversy, as well as the music video. The song mentions drugs and alcohol, something most people were not used to hearing from the former Disney Channel star. The music video for the song featured twerking, which many define as an inappropriate form of dancing. The second single "Wrecking Ball" was predicted to be less inappropriate. When the music video was released, it featured Cyrus swinging naked on a wrecking ball.
Her 2013 MTV Video Music Award performance caused a stir when she decided to twerk on married Robin Thicke on live TV. At the European Music Awards, she pulled a joint out of her purse after winning video of the year, causing even more of a scene.
So, the question that many have is "why"? Why did she do what she did? I decided to ask a fan and a teacher about their opinions of Miley. Mrs. Killian, a French and Spanish teacher at Ipswich High School and mother of two, gave a good and maternal point-of-view. When asked why she thinks Miley is acting the way she is, Mrs. Killian responded "It probably has something to do with being a child star. She became pretty famous very quick. Her parents were probably pushed aside a little because of that so she didn't have any real voice of reason". This is an insightful point.
Many child stars grow up and turn to drugs and alcohol because there is no one there to tell them no. On the other side of the spectrum, many teens are fans still of Miley Cyrus. When asked why she liked Miley Cyrus, senior, Alexis Mobley, said "She represents just wanting to have a good time. Her songs are sometimes emotional and others are about having fun". When asked why she thought Miley is reacting the way she did, Alexis said "She is trying to change her image. She doesn't want to be seen as a child star anymore."
Overall, Miley has made quite the name for herself. She has been able to create a buzz in such a short amount of time that she had become a household name. She stated in her MTV documentary, "Miley: The Movement," that she wanted to make people talk. She has succeeded in that.
Leave a Comment