Tom Brady vs. Cam Newton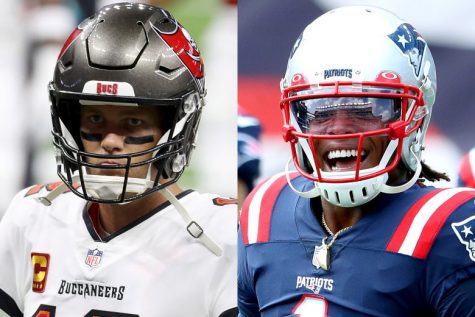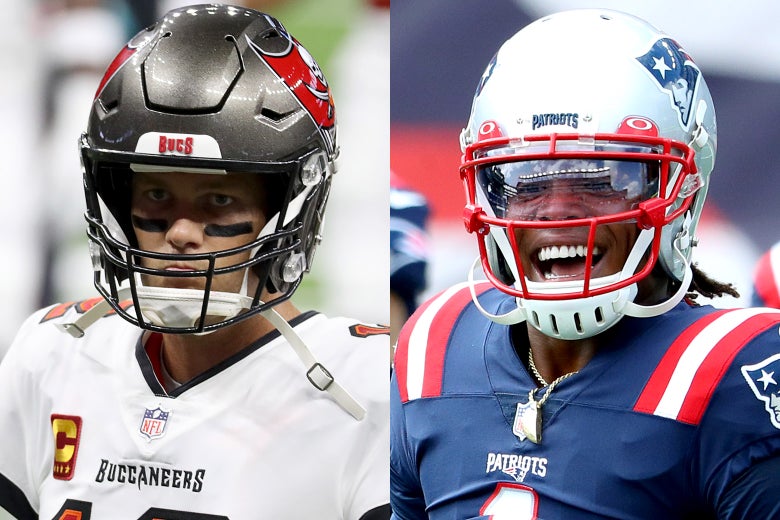 After seven weeks of the NFL season it has become clear that a new era has begun in Foxboro-an era that will not include Tom Brady for the first time in 20 years. It will be an era that has so much uncertainty about the quarterback position. The Patriots waited to find their next quarterback until they couldn't any more. Newton signed on July 8th for the veteran minimum, which is only about $1 Million. 
While the Patriots start a new era, so does Tom Brady, in Tampa Bay with the Buccaneers. Most likely this is the last stop in his career as he is now 43 years old. Brady has previously said he wants to play until he's 45; his new contract will take him up until he's 44. 
Tom Brady has been overall good with his new team, which is expected when coming from a system he was in for 20 years. In 7 games, Brady has thrown for 1,910 yards, 18 touchdowns and 4 interceptions. He is amongst the top of the league in passing yards and touchdowns. His team is 4-2 in part because of a couple vintage Brady performances in the last three weeks.
Cam Newton has been inconsistent, maybe due to his one week absence after contracting COVID-19. He has 969 passing yards, just 2 touchdowns and 7 interceptions in 5 games. The Patriots sit at 2-4, coming off ugly losses to the Broncos and 49ers. When comparing the two quarterbacks and their impacts, many will point to the stats and the records between the two. Which clearly shows that Brady has been better. Patriots fan and quarterback guru Gardy O'Flynn thinks, "The Patriots offense isn't necessarily better than last year; it is just a different style than what we're used to, because Cam Newton has the ability to run or pass." While Brady has pretty much been cemented in the pocket since his career began. Cam Newton adds a new element to the offense that hasn't been present for the last 20 years.
Last year, you could tell the Patriots offense was different. This year it isn't much better. The receivers have a tough time getting open and the offense is very stagnant at times. Bill Belichick tried to help Brady by drafting a wide receiver in the first round of the draft, yet Brady only threw him the ball 12 times over 7 games. The Patriots also sent a second round pick to the Falcons for Mohamed Sanu, who caught 26 passes and was subsequently released the next training camp. Brady shouldn't be acquitted of blame because his weapons weren't good enough. He made little to no effort getting them involved and it eventually hurt the Patriots because they had no reliable weapons late in the year when the playoffs started. This resulted in a quick playoff exit to a Tennessee Titans team that dominated the Patriots.
At the end of the day, being without Brady has not been pretty and it is very apparent that the Patriots now have a huge hole at quarterback moving forward. Until we can find another quarterback we shouldn't be expecting any Super Bowl titles any time soon.