2020 Election: Harris Makes History
On the week of November 3rd, 2020 history was made as former vice president Joe Biden's vice presidential nominee Kamala Harris became not only the first female but the first African American vice president. Over the next four years Joe Biden and running mate Kamala Harris aim to create a sense of unity and amity among the nation and create a plan for all of the ongoing issues throughout our country. 
One of the first decisions President-Elect Joe Biden had to make at the beginning of his campaign trail was to pick a running mate. Although Joe Biden had a lot of upstanding options that were fit, ultimately, he chose Kamala Harris.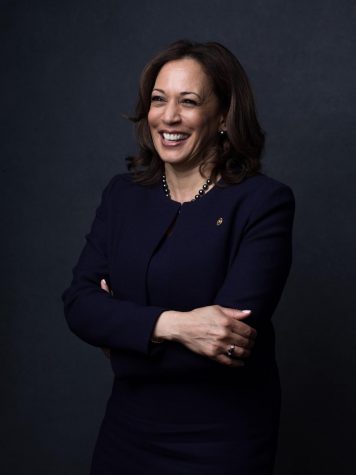 The vice president elect comes from a multi racial background. She is both African American and has South Asian American descent. Both her parents were immigrants and came to America for a better life. I asked Ginger Fritz, a history teacher at IHS if she believed Kamala Harris being elected is a step in the right direction and she said, "not only has the glass ceiling been shattered, but Harris will also be the first black and Indian woman to serve in this position." Knowing Senator Harris is multiracial Joe Biden knew this would be a very impactful choice, especially in 2020 with the ongoing racial tension in America. 
Kamala Harris' career is very impressive as well. Harris became the attorney general of California in 2010, and became the first female and women of color to do so. To add on, she was urged to run for the U.S. Senate seat occupied by Barbara Boxer and won in 2016. Her political views were also a very important part in the nomination. Some of Harris' views include being an ongoing advocate for Planned Parenthood and urges for reproductive healthcare as well. More importantly, Harris created the COVID-19 Racial and Ethnic Disparities Task Force Act, which addresses the racial injustices affected by the virus. Both Joe Biden and Kamala Harris' political views are one of the most important reasons on why they were elected in November. 
Harris becoming the first women vice president is a very monumental step for this country and for women all around the world. I asked Monica Sirois, a student at IHS how she feels about having a woman as vice president and she believes that, "This is a good step for women because for a long time it has just been filled with men in higher political status." When I asked Ms. Fritz the same question she said similarly, "Women have been increasing their involvement in politics for decades. I hope that having a female VP ushers in an era of even higher levels of female political participation." 
Ultimately, Kamala Harris now being the first woman and person of color on a political party's presidential ticket has made an enormous impact on women around the world. As for Harris, she argues that,"while I may be the first woman in this office, I won't be the last. Because every little girl watching sees that this is a country of possibilities."